For the eighteenth year in a row, students at Northwestern Kellogg spent Super Bowl Sunday analyzing and ranking the best ads of the 2022 event. Under the guidance of Kellogg professors Tim Calkins and Derek Rucker, the roughly 70 MBA Marketing Club members crowned a winner: Uber Eats. "Uber Eats is the winning ad this year because it had very strong branding and played off its known attributes to leverage its equity in a simple and clear message," says Professor Rucker.
How the Evaluation Worked
Before we dive into the best and worst ads, let's take a closer look at how the Kellogg MBAs made their evaluation. The MBA panel applied the strategic ADPLAN framework:
A—Attention: Did the commercial engage the audience?
D—Distinction: Was the execution unique in delivery?
P—Positioning: Did the commercial represent the appropriate category and feature a strong benefit?
L—Linkage: Will the benefit and brand be remembered?
A—Amplification: Were viewers' thoughts favorable?
N—Net Equity: Was the commercial consistent with the brand's reputation and history?
From here, the MBA students came up with the final 2022 rankings. What's more, they enjoyed a new setting for their evaluations:
After many great years in the Allen Center, this year's Super Bowl Ad Review is being held at the Global Hub for the first time. #KelloggBowl pic.twitter.com/O8RkU6g16j

— Kellogg School (@KelloggSchool) February 13, 2022
Super Bowl Advertising Review Results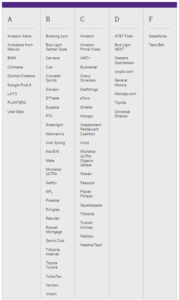 As mentioned above, the Uber Eats commercial, which featured celebrities including Gwyneth Paltrow and Trevor Noah biting into non-food items, topped the list for the Kellogg review panel. Planters, Google Pixel 6, and Doritos also earned high marks for creativity and connection to a recognizable product.
Forty percent of commercials during this year's Super Bowl came from new advertisers. Professor Rucker shared, "There were many new advertisers, including multiple cryptocurrency brands that missed the mark. While many of them caught viewer attention, there was no clear benefit or branding that helped to position crypto as the trusted future of investing." One is left to wonder, was Larry David paid in cash or crypto?
Salesforce's "Team Earth," Toyota's "Two Brothers" and Taco Bell were deemed flops by the Kellogg crew. Idris Elba left a decent impression for Booking.com, as that commercial earned a B in the review. B was the most popular grade, and was assigned to ads including those for Disney+, Netflix, Sam's Club and others. Cs fell on brands like Amazon, Budweiser and Gillette.
Viewers Chime in on Twitter
Outside of The Global Hub, viewers could chime in with their views on Twitter with #KelloggBowl. Though Larry David left an impression, this user is still unsure about crypto:
#KelloggBowl @TimothyCalkins Larry David always being right is funny but not enough to overcome my confusion about what crypto really is

— Fred Ehle (@FredEhle) February 14, 2022
Pringles also missed the mark for this user:
That Pringles spot made me uncomfortable. Anybody else? #KelloggBowl

— Jordan Roberts (@JordanOnBrand) February 14, 2022
A professor wondered about the value of a commercial QR code:
How easy is it to give everyone in America a virus?#ICMKTG #UToledoMarketing #KelloggBowl #SBAds #AdBowl pic.twitter.com/6b86Hsplg4

— Jennifer Stevens (@JennLStevens) February 14, 2022
Meanwhile, a marketing enthusiast thought something was missing overall:
I thought that @IrishSpring ad was about to be a @tide ad. Speaking of @tide is there a tide ad this year? Did I miss it? Where is P&G in general? #kelloggbowl

— Carleigh Nichols (@NicholsCarleigh) February 14, 2022
A Kellogg MBA offered his assessment and pointed out it's been a long…year:
I think the ads were consistently good to very good, but not that many were jaw-droppingly excellent. High floor, but low ceiling. #KelloggBowl https://t.co/v1Z0OqFxSN

— Jordan Roberts (@JordanOnBrand) February 14, 2022
Wow. A covid test kit in the Super Bowl. 2020 has been going on for so long… #KelloggBowl

— Jordan Roberts (@JordanOnBrand) February 14, 2022
Another Kellogg alumni wished he could take part in the evaluation again:
Being a part of the @KelloggSchool 2012 #KelloggBowl with @TimothyCalkins during my first year in the US remains my favorite #SuperBowl memory.

Seattle winning it in 2014 comes a close second:)

— Suhel Banerjee (@suhel) February 14, 2022
In conclusion, Tim Calkins offered the following reflection: "Overall, this year's Super Bowl brought an optimistic tone with references to life before the Covid-19 pandemic. It was great to see brands honing in on their creativity and strong references to emerging areas of business, like healthtech, sustainable auto and cryptocurrency."
See more from Kellogg here.