Our latest episode of WireTaps begins with Graham and Alex taking stock of all the latest MBA LiveWire activity and mentioning upcoming deadlines for UNC / Kenan Flagler, Cambridge / Judge, MIT / Sloan and Berkeley / Haas. Graham then highlighted recently published content on Clear Admit, including a piece that compares the GMAT to the GRE; we then discussed whether to take the current GMAT or the newly formatted GMAT. Graham then highlighted seven Real Human's alumni pieces, offering a variety of perspectives from MBA alumni working in Consulting, Banking, Tech, and Entertainment, from a host of leading MBA programs. Graham also highlighted the Real Humans of Stanford article that features several current Stanford MBAs. Graham then noted the upcoming event series that Clear Admit is hosting in May (each Wednesday), which will feature the majority of the leading MBA programs. This series will offer application overviews from each of the programs. We will then follow up with our equally popular essay workshop series in the months ahead.
For the candidate profiles this week, Alex and Graham tackled one ApplyWire entry and two DecisionWire entries:
The first candidate featured this week is targeting next season. His numbers are very decent (730 GMAT, 3.75 GPA in chemical engineering). He works in "Big 4" consulting and hails from the Midwest. He is still early in his career, and also asked if he should retake the GMAT, even though it is already quite high. Alex and Graham discussed these two issues. This week's second candidate is weighing offers from UVA / Darden (with no scholarship, yet) and Cornell / Johnson, with scholarship. Their post MBA goals still lack a little clarity, which makes selecting the right program a little tougher. They are from India, and Alec and Graham suggest that Johnson with the scholarship support might make good sense. This also led to a discussion related to STEM. This week's third and final candidate is considering whether to attend a one year MBA, with post MBA goals of consulting, or wait another year and reapply in the first rounds. They are also still on the waitlist for another two programs. This led to an interesting debate in terms of how the current economic climate might make things a little tougher for one year programs.
Chemical Engineer at Big 4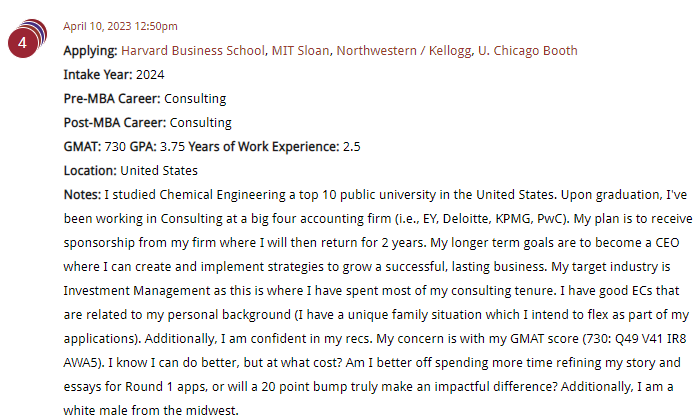 Johnson vs Darden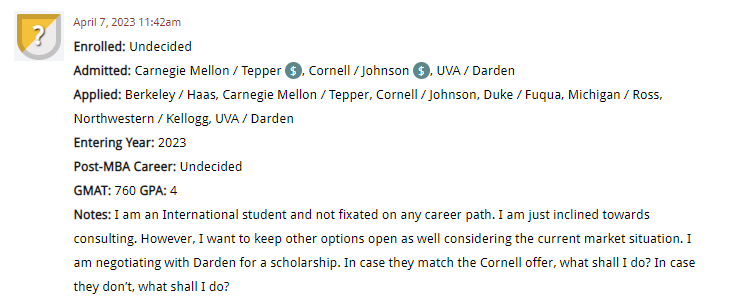 One year vs Wait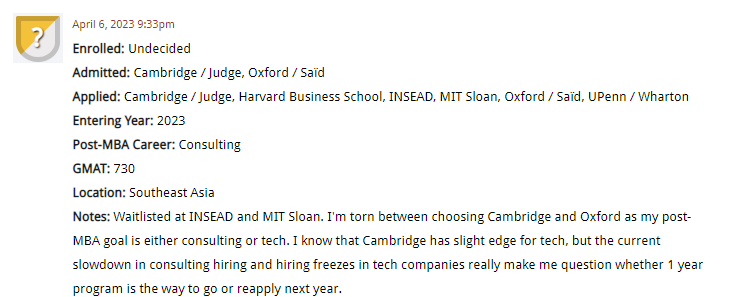 Happy listening!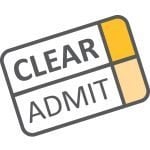 Be sure to post to MBA ApplyWire, MBA DecisionWire or MBA RankingsWire if you'd like Graham and Alex to offer admissions advice.
If You Like What You've Been Hearing, Please Subscribe and Rate Us!
It's been wonderful seeing the audience for our podcast series continue to grow! Please, if you have enjoyed what you've heard, could you rate and review the Clear Admit MBA Admissions Podcast wherever you listen? This is the best way to help more listeners find us. Also, to ensure that you never miss an episode, please subscribe to the podcast.
This episode was hosted by Graham Richmond and Alex Brown, and produced by Dennis Crowley. Thanks to all of you who've been joining us!