Weekly Roundup for Clear Admit's MBA Podcast
In this week's MBA Admissions podcast we began by reviewing the latest MBA application deadlines and interview releases. We are still seeing Round 1 interview invites on MBA LiveWire continuing to roll out for Berkeley / Haas, Stanford, Cornell / Johnson, and several other programs; INSEAD is scheduled to release its Round 1 decision next week.
Graham highlighted the second deferred admissions event that Clear Admit is hosting this upcoming Wednesday, which includes Berkeley / Haas, Columbia, Yale SOM and CMU / Tepper. Signup for the event here: https://bit.ly/declearadmit Clear Admit is also hosting its first events for Masters in Management programs on November 29 and December 6th. Schools participating in those events include Chicago / Booth, Michigan / Ross, CMU / Tepper, Northwestern / Kellogg, Georgetown / McDonough, Emory / Goizuetta, Duke / Fuqua and Notre Dame / Mendoza. Signups are here: https://bit.ly/clearadmitmim
We then had a discussion on the impact of the Forte Foundation on female enrollment in top MBA programs. New data reveals that in 58 leading MBA programs, female enrollment is now averaging 42%. We also know that at some of the very top programs, that number rises to above 50%. This is an impressive leap forward from the 30% we were seeing 20 years ago. Some great and important work has been done in this area.
Graham then highlighted three Real Humans pieces, from Cambridge / Judge, Notre Dame / Mendoza and NYU / Stern. Hearing directly from students at these programs is a great way to learn more about the culture of these programs. We then discussed three recently published employment reports, from Georgetown / McDonough, Duke / Fuqua and Emory / Goizueta. Consulting still appears to be the key industry for placements, which also helps drive up the overall median salaries to record levels at these programs.
Graham then mentioned our ongoing fall survey for MBA applicants, which will allow MBA programs to better understand candidates' communication preferences, interest in sustainability, and international business. You can access the survey here: https://bit.ly/clearadmitfallsurvey
For this week, Alex selected two ApplyWire entries for the candidate profile review portion of the show.
Two MBA Admissions Candidates Reviewed
This week's first MBA admissions candidate has a great GPA of 3.93 and was top of their class. Their GRE score is also decent, at 326. They are a software engineer from India, so they will be potentially considered over-represented, which may present additional challenges as they target round 2. Outside of work, they have a passion for fine art, which may help differentiate their profile.
This week's second MBA candidate is also from India, and has a super GMAT of 760. They have worked in digital marketing, with great success. They are also very active outside of work, with several different activities, including classical singing. They did apply in Round 1, and have interview invites for all the programs they have targeted. They are now considering their Round 2 strategy.
3.93 GPA, software engineer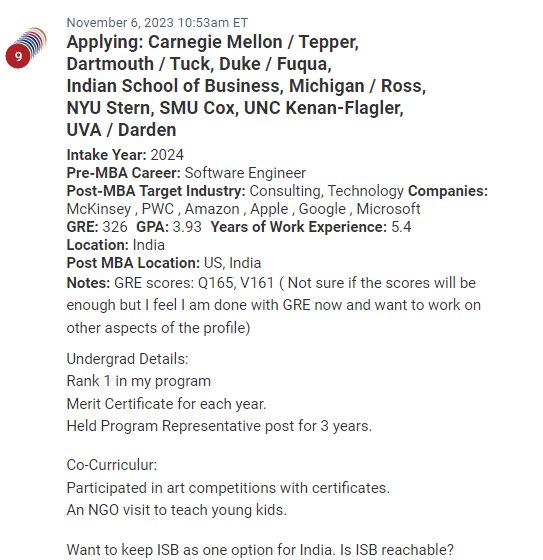 760 GMAT, Round 2 strategy?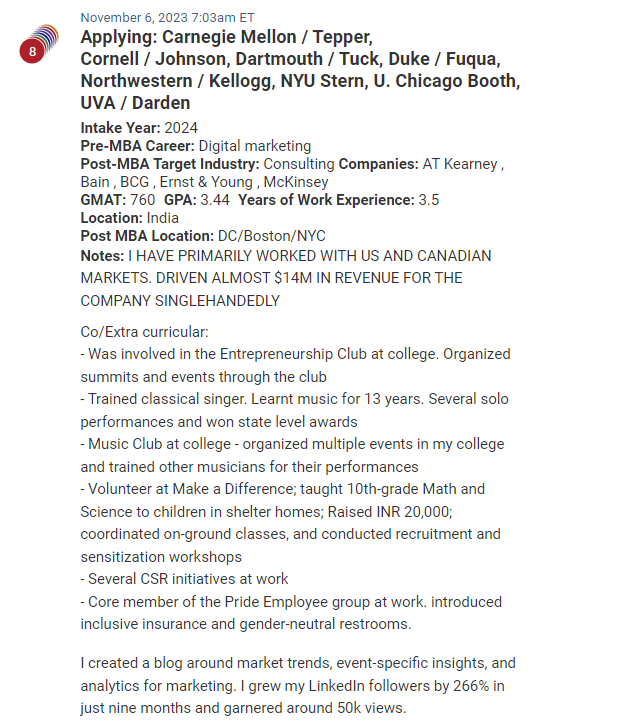 We finished this podcast episode with a short discussion on speculating patterns for the release of interview invite decisions, for those MBA programs which release decisions over several weeks.
Happy listening!
---
This episode of Wire Taps is brought to you by Emory Goizueta.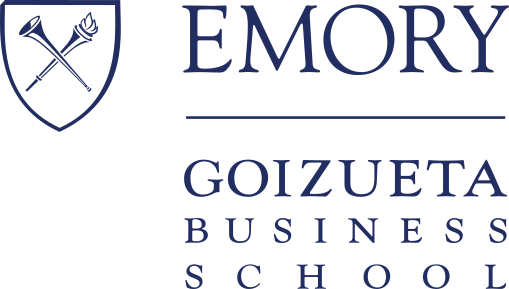 For more than 100 years, Emory University's Goizueta Business School has been a training ground for principled leaders and a laboratory for powerful insights. Whether you're looking to accelerate your career or make a career pivot, Emory's One-Year and Two-Year Full-time MBA programs prepare you for a lifetime of career confidence. Learn more about Emory's top-20 MBA with top-5 career outcomes offering world-class academics and small-by-design classes delivered in a dynamic, global city. Learn more.
---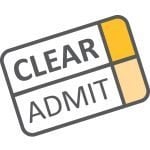 Be sure to post to MBA ApplyWire, MBA DecisionWire or MBA RankingsWire if you'd like Graham and Alex to offer admissions advice.
If You Like What You've Been Hearing, Please Subscribe and Rate Us!
It's been wonderful seeing the audience for our podcast series continue to grow! Please, if you have enjoyed what you've heard, could you rate and review the Clear Admit MBA Admissions Podcast wherever you listen? This is the best way to help more listeners find us. Also, to ensure that you never miss an episode, please subscribe to the podcast.
This episode was hosted by Graham Richmond and Alex Brown, and produced by Dennis Crowley. Thanks to all of you who've been joining us!