Hello and welcome to Fridays From The Frontline, Clear Admit's ongoing blog feature taking a closer look at the lives of b-school bloggers. With summer in full swing, applicants were focused on a few different elements of the application process, while soon-to-be first years discussed how they were spending their time before orientation. 
HammO complimented the way Clear Admit lays out information in its line of school guides and appreciated the added Q&A sections as well. Thanks for the kind words! Timbob referred to his engineering background as he explored the difference in definitions between "goal" and "aspiration" and expressed his own preference for discussing his aspirations instead of concrete objectives. Writing in Transit took the GMAT one last time and scored a 760, which he was (understandably) quite pleased about.
Wharton '15 MBA Over 30 celebrated his 36th birthday, signed up for numerous pre-Orientation Wharton activities and downsized his possessions in preparation for his move to Philly. Yale '15 Sassafrass was living the life of an unapologetic tourist, visiting Iceland and Italy, though he also found time to do a little accounting and spreadsheet study prep for his upcoming transition to b-school. Kellogg '15 Pyaropopat recounted visiting Kellogg for its Day at Kellogg events back in February.
Judge '14 Sarah described a recent conference she attended that focused on responsible investing. McCombs '14 Chirali gladly shed a little light on how their summer internship in Dallas was going.
And that's a wrap for this edition of Fridays From The Frontline. Until next week, have a wonderful weekend and avoid the heat if you can!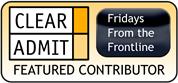 Want to join the Fridays From the Frontline community and see your blog featured regularly in this column? Just follow this link and add the FFF badge to your blog and then  email us at [email protected] with your URL so we can make sure to add you to our weekly roundups.