Hello and welcome to Fridays from the Frontline, Clear Admit's weekly confabulation with correspondents in the b-school blogosphere.  Our 2016 applicants continue to receive status updates from schools, while current students are taking the opportunity afforded by spring break to travel and update their blogs.
Domotron finally heard from Kellogg, with news of a ding that confirmed a Class of 2017 matriculation at Tuck. CoffeeBeansandTeaLeaves also received a ding from Kellogg, and updates readers with a final tally of dings from this year's application season. Although the season ends with an offer to join the Ross weekend MBA program, Ellie  is taking advantage of this time to do some self-reflection and prepare for next year's challenges. We wish her all the best! Finally a bit of good news from MBA Reapplicant, who posted a detailed and glowing account of visiting Darden and the interview process.
TwoYearsatHBS escaped to the warm beaches of sunny Miami, cold mojito in hand, feeling regret only for how quickly the first year at Harvard Business School is passing by. Across the Pond, Ugo LBS '15 took some time during his free two weeks to update on the busy first half of the semester.
And that's all the news for this week's edition of Fridays from the Frontline. As April approaches, we on the East Coast of the US are looking forward to the sun and warmth that will inevitably (we hope!) follow. We  also hope that applicants continue to update us with information about statuses and future plans, and that current students also update their blogs with the latest from their campus and classroom lives.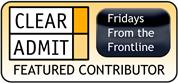 Want to join the Fridays From the Frontline community and see your blog featured regularly in this column? Just follow this link and add the FFF badge to your blog and then  email us at [email protected] with your URL so we can make sure to add you to our weekly roundups.