Despite its continuing rise in recent years in terms of average GMAT scores—considered an all-important metric in certain annual rankings of schools—the University of Pennsylvania's Wharton School back slid just a hair this year, according to its Class of 2018 Profile, released today.
After a meteoric rise of 14 points since 2012 to 732 last year—placing it second only to Stanford Graduate School of Business—Wharton this year slipped to a mean GMAT score of 731. The range of GMAT scores the school accepted this year also widened, encompassing everything between 570 to 780, as compared to last year's range of 620 to 790. Wharton's median GMAT score this year is 730, placing it directly on par with Harvard Business School, which shared preliminary class profile details earlier this month but doesn't share mean GMAT scores.
Though the Philadelphia school may have welcomed a candidate or two with lower GMAT scores as part of this year's class than in the last several, a full 80 percent of applicants still had scores between 700 and 770, exactly the same as last year. This was also just a schmidge about Boston rival HBS, where 80 percent of applicants reported scores between 690 and 760.
Kellogg GMAT Scores Climb Amid Wharton's Tiny Slip
Wharton's slip in GMAT score mean comes against news earlier this month that Northwestern's Kellogg School of Management boasts its highest ever GMAT mean, 728, a four-point jump from the year prior there. Wharton, HBS and Kellogg are among the earliest of top-tier MBA programs to release their class profiles for incoming students. Stanford GSB's mean GMAT score for last year's incoming class was 733.
Wharton Application Volume Relatively Stable, Class Size Dips by 10
In terms of applicant volume, Wharton shared that applications were up a scant 1.4 percent over last year's 6,590. Eighty-nine more applicants hit submit at Wharton this year than last, for a total of 6,679. Of those applicants, just 851 secured seats in the class, down from 861 last year.
A look at HBS class profile information reveals that it continues to dominate both in terms of application volume and overall class size. Of the 9,759 applicants to HBS this year, 942 have enrolled (though HBS is careful to characterize its class profile as "preliminary" until students actually arrive on campus).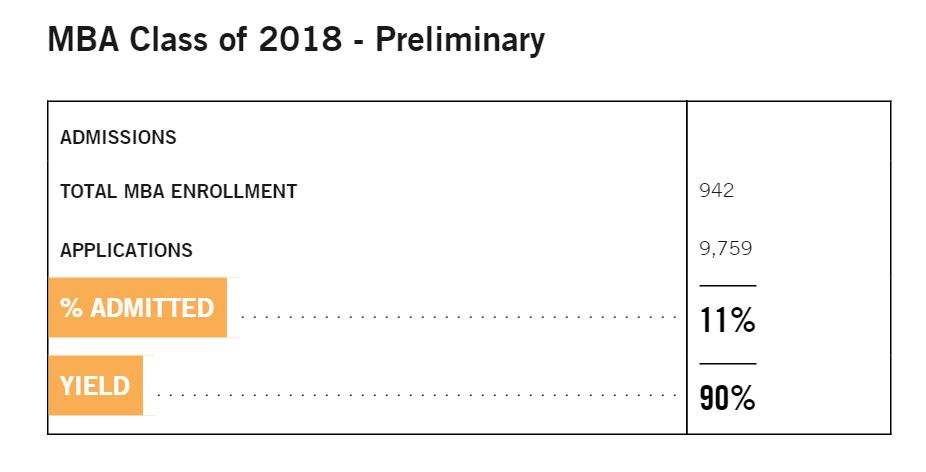 What About Diversity?
The percentage of women enrolling at Wharton rose slightly this year, to 44 percent, over last year's 43 percent, although the school has yet to again reach the record high 45 percent of women who enrolled in 2011. HBS counts 43 percent women in its incoming class, up a percentage point from last year's 42. Kellogg dipped a bit in this regard, enrolling 41 percent women as part of its Class of 2018, although the school makes the point that when combined with the Class of 2017, which is 43 percent women, Kellogg's two-year MBA program now counts more total women than ever before.
International students at Wharton held steady, making up the same 32 percent of the class as in the year before, although drawing from just 71 different counties, instead of last year's 73. U.S. students of color, meanwhile, grew by two percentage points, reaching 32 percent this year, up from last year's 30 percent.