A week after Wharton students gathered in the wake of police shootings of Terence Crutcher and Keith Scott in Oklahoma City and Charlotte, it felt like the time for an open discussion on race open to the entire MBA community had arrived.
Students joined together for an event organized by the Return on Equality (ROE) student coalition and the Wharton African American MBA Association (AAMBAA) in Wharton's Huntsman Hall for two hours last Thursday. As part of a "judgment free" open discussion, they together shared stories and concerns while asking difficult—and often critical—questions of one another.
"Having these difficult conversations now can have major impact later, and I'm so grateful for the allies who have stepped up, asked the tough questions, and sought understanding," said Divinity Matovu, WG'17. "I've been particularly impressed by the proactive stance and compassion from international students at Wharton who have very little context for the deeply ingrained racial issues in the USA's history. Wharton is an incredible community and I'm so happy and humbled to be here."
"As future business leaders," Matovu continued, "Wharton MBAs are in a powerful and unique position to influence the trajectory of our nation along with students from our peer schools. Our perceptions about race/ethnicity and implicit bias will affect how we build our networks, how we engage with our coworkers and how we lead organizations and communities."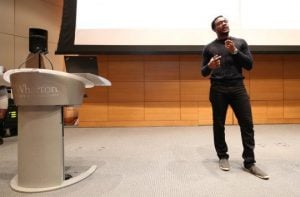 Several students took to the stage to share how issues of race and police brutality impact them personally and within their communities. "Don't discount having the benefit of the doubt. I don't have that luxury," said Chris Merriewether, WG'18.
Dimia Fogam, WG'17, who is president of the Wharton AAMBAA, pointed out the unique opportunity students have to confront these issues before heading back into the corporate world. "Here we can take advantage of our environment to engage with the difficult issues the world is currently grappling with, whether social, political or economic, so that we can go out to become the most informed and empathetic leaders we can be," she said.
Alongside Wharton students, many business school communities around the country are opening up similar discussions, cataloging their open dialogue with the hashtag #mbasopenup.
Students, faculty and staff at the Johnson Graduate School of Management at Cornell University, the Kellogg School of Management at Northwestern University, UCLA Anderson, the Darden School at the University of Virginia, and Emory University's Goizueta Business School were just a few of the groups that followed Wharton's lead, dressing in all black in solidarity with the Black Lives Matter movement. And as more open, transparent dialogue unfolds, other schools are likely to join as well.
Click here to read more information on Wharton's Sept. 29th discussion on race.