ApplyWire Spotlight: Applying to Business School with a Media Startup

As MBA applicants gather materials for their MBA applications, they are posting their plans to ApplyWire, Clear Admit's latest tool to aid in your admissions process. This week, we're setting the spotlight on a candidate looking to take the next step with her media company. We take a closer look at her plans in applying to Cambridge / Judge, Columbia, Cornell / Johnson, Harvard Business School, MIT Sloan, Oxford / Saïd, and Yale SOM. Read on for more details about the candidate's background.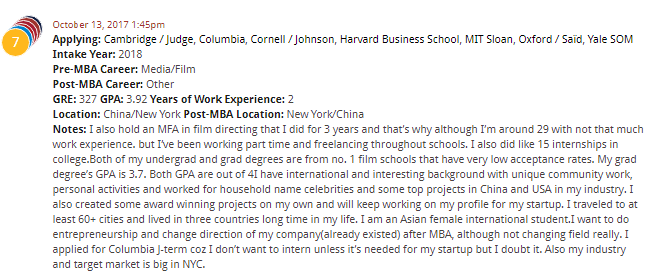 Initial feedback honed in on school choice:

And was seconded in the thread:

The prospective applicant than returned to explain her school choice:

After discussing schools for a bit, the applicant revealed her concerns with her stats:

The thread wrapped up with positive feedback:

Best of luck with your applications!
Readying your applications? Do you know which business schools you will be applying to? Share your story on ApplyWire. It's completely anonymous and only takes a minute to complete.
Posted in: ApplyWire
Schools: Cambridge / Judge, Columbia, Cornell / Johnson, Harvard Business School, MIT Sloan, Oxford / Saïd, Yale SOM
Related
Sign Up For Our Newsletter