Each week we collect all the MBA news that's fit to print to give you a quick overview of the latest trending topics from top schools around the world.
Here's your quick MBA News You Need digest for the week of April 12, 2018.
Yale SOM Student-Led Conferences More Than Double in Five Years
Over the last five years, Yale SOM students have been on a conference-hosting blitz. Five years ago, students hosted five conferences over the course of the year. This year that number has more than doubled, to 12. The success of these conferences is due in part to the wide variety of topics they cover, ranging from cannabis to menstrual hygiene. The increasingly widespread desire of students to address critical issues that affect business and society has also played a role.
This year's newest student-led conference was the Business of Legal Cannabis Conference, the first of its kind hosted at a U.S. business school. Other debut conferences included PeriodCon, which brought together policy makers and product innovators to discuss the global challenges and innovations in menstrual hygiene. Another noteworthy addition was the Hispanic and Latin-American Conference, which examined U.S. and Latin-American relations. These new conferences join an established lineup, which you can learn more about in Yale's latest news release.
UNC Kenan-Flagler Gets a Face Lift Thanks to Alumni Art Donation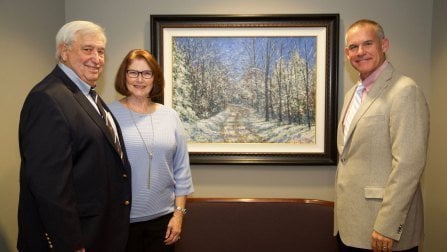 Who's to say that business schools shouldn't go the extra mile to make their hallowed halls aesthetically pleasing? UNC Kenan-Flagler alumnus Emerson Dickey (BSBA '67) and his wife Cheryl donated part of their extensive art collection to the school as an in-kind gift. The art collection, which will now line the halls of the business school, features work by painters such as Yankel Ginzburg and Andrea Razzauti.
"This art from Emerson and Cheryl not only beautifies our halls for current and prospective students, faculty, staff, and guests, it also supports the University's Arts Everywhere initiative to embed the arts into daily life and promote its power as a universal language to spark creativity," Kenan-Flagler Dean Doug Shackelford said. (UNC Kenan-Flagler Blog)
HBS Professors Discuss U.S. and China Trade War
When the Trump administration recently announced 25 percent tariffs on more than 1,000 Chinese exports at an annual cost of around $50 billion, there was concern about its potential impact on economic and political relations between the two countries. This week, two Harvard Business School faculty experts on China, Bill Kirby and Willy Shih, weighed in on the situation and offered advice for moving forward.
According to Kirby and Shih, the United States should pursue a longer-term view on trade with China and focus on technological leadership. They also warn that political insecurity in China presents the greatest hindrance to American companies in China, and tariffs won't change that. To read all their theories about the best path forward for trade between the U.S. and China, read Trade War or War of Words?.
$6 Million Alumni Gift Bolsters Healthcare, Life Sciences, and Teaching at University of Toronto Rotman
The University of Toronto Rotman School of Management is already a leader in healthcare management research. Now thanks to a $6 million gift from the Rotman family, the school will be able to strengthen its healthcare and life sciences research. The gift will open up three new faculty professorships, support research and leadership around health sector challenges, and provide education and leadership development for professionals in the industry. The Sandra Rotman Centre for Health Sector Strategy will be so named in honor of the gift.
"We are enormously grateful for this new gift from the Rotman Family as well as the family's initial support when we launched our healthcare activities in 2002," says Prof. Brian R. Golden, vice dean of MBA programs. "This most recent generous gift will enable us to increase the impact of our work in healthcare and life sciences within Canada as well as internationally." (Rotman News)
Cryptocurrency Courses Soar at Top B-Schools
Cryptocurrency mania is upon us. The buzzword is splashed across the pages of every leading technology and business magazine, and leaders in every industry have scrambled to weigh in on the subject. Now top MBA programs around the world have begun to join the conversation on cryptocurrency by adding it to their business school course offerings.
Stanford Graduate School of Business, the University of Pennsylvania's Wharton School, and Georgetown's McDonough School of Business are just three of the most recent leading MBA programs to expand their coursework to include classes on digital currency and blockchain. According to CNBC, if business schools want their students to compete, it's technology they need to understand. The demand hasn't just come from current students; venture capital firms are eager to hop on the craze, too.