According to the 2018 MBA Applicant Survey conducted by the Association of International Graduate Admissions Consultants (AIGAC), MBA applicants expect a lot from business schools as they make their way through the admissions process. Not only do they want the schools themselves to be more transparent—including providing status updates, feedback, and earlier wait list decisions—they also want more consultant advice and interaction.
"More transparency in terms of the status of the application will be appreciated," wrote one survey respondent. "Leading schools like [schools] were notoriously quiet about the application for more than 5 weeks.."
Even applicants whose bids for admission were unsuccessful want more from schools. "Feedback at some point would be fantastic," wrote one. "At least some indication of what portion of an application was below expectation would be helpful even just for personal development."
The latest annual AIGAC survey drew almost 2,000 responses from applicants to more than two dozen leading business schools. Results were released as part of the admissions consultant group's annual conference, which took place last week at Northwestern's Kellogg School of Management.  
Where Do MBA Applicants Look for Admissions Information?
According to the survey results, school websites are a primary source of information for 80 percent of applicants. After school websites, online information sessions, student and alumni referrals, and admissions teams are where applicants are most likely to turn. In terms of what they are looking for, applicants are most eager for information that helps them set expectations for the admissions process, but finding it isn't always easy. As one survey respondent said, "[School]'s application process was steeped in mystery."
Outside of school resources, students look to social media, online communities/forums, MBA rankings, and then family/friends/work colleagues. They also look to the blogs and websites of admissions consultants as well as printed viewbooks and brochures. And many applicants look in as many places as possible to find the information they crave.
"Videos, interviews, and current or alumni experiences are very valuable," wrote one survey respondent. Another underscored the importance of school websites being "very easy to navigate." Online seminars that only reiterate information available on the schools' websites are less valuable, shared another.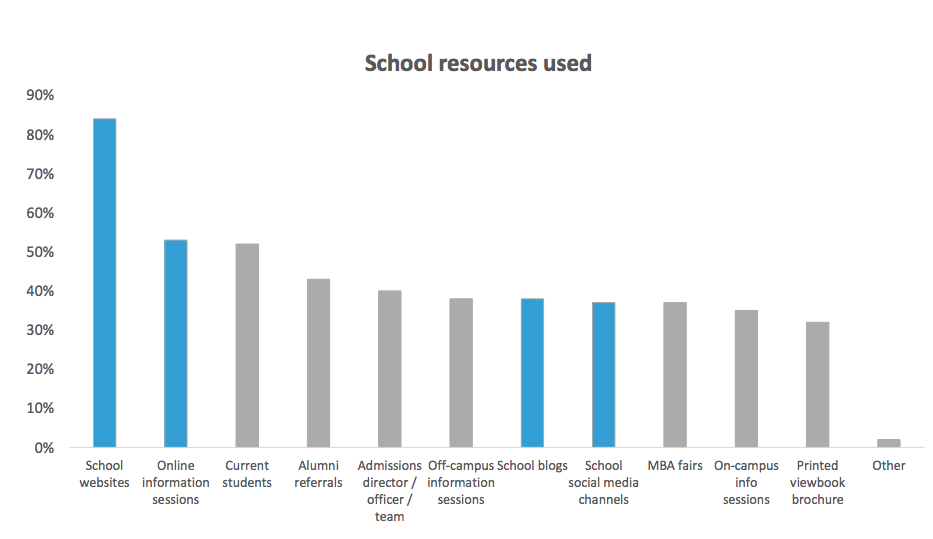 In the social media sphere, more applicants look to LinkedIn for information than any other channel, followed by YouTube and Facebook. Quora follows, trailed by Instagram and Twitter.

Schools That Get to Know MBA Applicants Best
Cornell's Johnson Graduate School of Management, UVA's Darden School of Business, and Dartmouth's Tuck School scored the highest marks in terms of how well they get to know applicants as part of the admissions process. Notably, some of the most highly ranked business schools fell short in this regard, with Stanford Graduate School of Business and Harvard Business School bringing up the rear. As one candidate explained, "Though I fell in love with [school] during my campus visit, I felt that their application process was very impersonal, and I didn't feel like I had enough of an opportunity to show the school who I was with a video and a [short essay]…"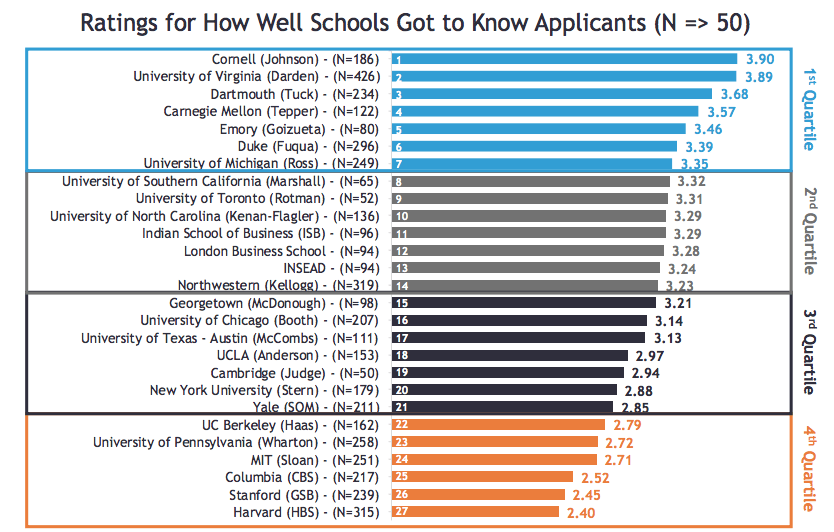 Why the MBA? Why a Particular School?
The survey also sought to understand what most motivates applicants to apply to MBA programs in general. More than half—57 percent—seek to acquire new information, skills, and knowledge. Forty-nine percent, meanwhile, want access to job prospects. And 48 percent are seeking a stronger network or to advance their careers.
As for the top factors influencing which schools applicants choose to target, reputation reigns supreme, cited by 66 percent of applicants surveyed. School rank was a top factor for 61 percent, and school culture, for 53 percent.
To learn more about the survey results and to read more personal responses from applicants, consult the full survey here.