Each week we collect all the MBA news that's fit to print and provide a quick overview of the latest trending topics from top business schools around the world.
Here's your quick MBA News You Need digest for the week of August 16, 2018.
These 10 Business Schools Are the Hardest to Get Into, Says U.S. News
To qualify getting into an elite business school as "difficult" is kind of like saying LeBron James is "pretty good" at basketball. Business schools are inundated by literally thousands of applications for the few hundred slots set aside for each incoming class—and the ratio of slots-to-applicants grows smaller and smaller among the 10 most selective business schools.
According to the U.S. News Short List, the average acceptance rate for all ranked business schools was 47 percent compared to 14 percent for the 10 business schools with the lowest acceptance rates, more than half of which are ranked among 2019's top 10 best business schools:
To explore the rest of the top 10 most selective schools, check out the full U.S. News article.
Yale SOM Welcomes Incoming MBA Class of 2020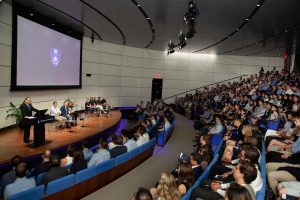 The Yale SOM MBA Class of 2020 gathered for the first time on campus this week to kick off orientation, where more than 340 students had the opportunity to mingle and hear from several of the school's deans.
Deputy Dean Anjani Jain welcomed students and discussed what being admitted to Yale SOM means.
Deputy Dean Eideal Pinker encouraged the new MBA students to "focus on opportunities to learn about how markets, organizations, and the people working in them function."
Deputy Dean David Bach advised the Class of 2020 to take advantage of the Yale community both during and after their degrees.
Next week, the MBA students will meet Dean Edward A. Snyder and connect with incoming students from other master's programs, including the Master of Advanced Management program.
To learn more about orientation, visit the Yale SOM news website.
Student Giving Breaks Multiple Records at UNC Kenan-Flagler
The fiscal year of 2018 was a record for UNC Kenan-Flagler in terms of student and donor gifts, which are set to make a "tremendous and lasting difference at the business school." Overall, there were more than $48.7 million in cash donations and commitments that will support UNC Kenan-Flagler's areas of greatest need, including seven new MBA fellowships.
Here is a quick breakdown:
7,304 faculty, staff, students, alumni, and friends gave to the school in 2018—503 more than the previous record.
The school raised $4.1 million in unrestricted annual gifts.
15 new scholarships and fellowships were created.
In just 24 hours, the school raised $532,237 from 1,372 donors for the greatest giving day in school history.
To learn more, visit the UNC Kenan-Flagler blog.
BlackRock Sustainable Team Founder Joins Tuck Center for Business, Government, and Society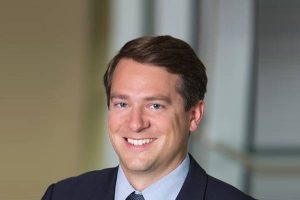 John McKinley, a founding member of BlackRock's sustainable investment team, has joined the Dartmouth Tuck School of Business as the new executive director of the Center for Business, Government, and Society.
In his new role, McKinley is responsible for envisioning, planning, and leading all of the center's initiatives, programs, and activities. He will also serve as a vital school leader and contributor to Tuck's mission to educate tomorrow's movers and shakers.
Over the course of McKinley's career, he has navigated the complex realms of business, policy, and civil society. At BlackRock, he built the company's European sustainable investing business from London headquarters. Before BlackRock, McKinley oversaw the Global Fellows Program at Acumen and managed rule-of-law development programs in Africa and the Middle East at the U.S. Department of Justice.
To learn more about what McKinley brings to Dartmouth Tuck, head to the Tuck news website.
CMU Tepper MBA Program Welcomes Non-Quants
While the CMU Tepper MBA program has a "quant-heavy" reputation, the school is reportedly happy to accept non-traditional students who need a little extra quantitative help.
In fact, the MBA program intentionally seeks students with undergraduate degrees in the humanities. According to Kate Barraclough, who heads the Tepper MBA program, the school seeks a variety of students because "that leads to richer classroom discussions [and] having a diversity of opinion or background leads to different business outcomes, different views coming to the table."
As part of this effort to recruit more non-traditional students, CMU Tepper accepts both the GMAT and the GRE for admissions, which has increased applications from students with humanities backgrounds for the full-time MBA program by 37 percent since 2016. Twenty-four percent of the Class of 2019 is drawn from "other" backgrounds including consumer products, entertainment and media, nonprofits, and social impact jobs. Students from humanities backgrounds make up roughly 9 percent of the Tepper MBA class. Once they're in, Tepper offers a four-week online math course to adequately prepare more non-traditional business school students for the road ahead. (Pittsburgh Post-Gazette)