Each week we collect all the MBA news that's fit to print and provide a quick overview of the latest trending topics from top business schools around the world.
Here's your quick MBA News You Need digest for the week of November 15, 2018.
Chicago Booth Expands MBA Veteran Resources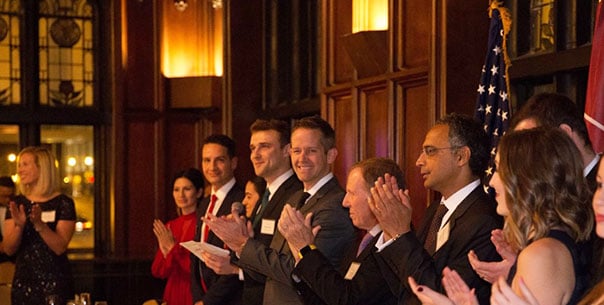 Chicago Booth announced a new university-wide Office for Military-Affiliated Communities during its annual event that celebrates the military-affiliated members of the Booth community.
The Office for Military-Affiliated Communities will amplify the programs, support services, and partnerships already in place for military students. Keynote speaker and alumnus Eric Gleacher (MBA'67) also announced a newly established permanent scholarship fund for MBA veterans at Chicago Booth. These are just two new ways that the school will continue to support veterans.
Chicago Booth participates in the Yellow Ribbon Program, which awards qualifying veterans up to $30,000 in benefits—representing a recent doubling of contributions. There's also an Armed Forces Group, which supports the MBA journeys of veterans, starting with the admissions process. Then there's the partnership with the Army Research Laboratory, which has a regional headquarters for research and technology development at the Polsky Center for Entrepreneurship and Innovation.
To learn more about all the resources available to veterans at Chicago Booth, read the school's latest blog.
Berkeley / Haas MBA Veteran Answers 6 Questions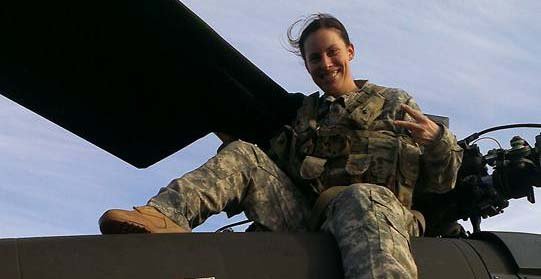 Current Berkeley / Haas MBA student and former U.S. Army captain, Jennifer Nixon, took to the Haas blog to share a veteran's perspective on business school and explain why Haas is an ideal place for military-affiliated students.
Nixon discussed the vast array of leadership experience and skills she acquired during her time in the military, including a moment when she found herself leading 20 pilots and mechanics, along with four helicopters. "I definitely learned through doing," Nixon said.
Nixon opted to go the business school route because she wanted to move up the corporate ladder. She chose Haas because she wanted a school that was not only supportive of veterans, but would allow her to build upon her current analytical and management skills.
"Business school is a great way to find how you fit in the corporate world. At the end of the day, business skills are good to have, no matter what line of work you go into," wrote Nixon. (Read the Berkeley / Haas Blog)
Tuck MBA Announces Enhanced Core Curriculum
Earlier this year, Dartmouth / Tuck set out to review the core and elective MBA curricula. This month, Tuck announced a number of improvements it hopes will underline the school's mission to instill the values of confident humility, empathy, and judgment in its community.
The new updates to the Tuck curricula came about as a result of Dean Matthew Slaughter's creation of the Curriculum Review Committee, which is chaired by accounting professor Jack Byrne. Their tireless efforts helped Tuck identify five design challenges for the new core curriculum:
Need to grow wise leaders
Need for students to analytically develop and defend a point of view
Timely and timeless content
Address of contemporary business issues
Need to help students navigate their career choices
With those five ideas in mind, the committee has begun to rework the curriculum to include greater integration between courses, co-curricular activities, and extra-curricular activities. In addition, there will be new opportunities for students to learn and practice their skills in data analytics, big data, and computer programming.
"The world has changed significantly since we last [2008] took a systematic look at what we teach in the core and how we teach it," said Dean Slaughter. "While many individual courses have been refined to keep pace with emerging business forces, a thorough review that considers these forces in the context of the core curriculum as a whole will strengthen this foundation of learning at Tuck." (Dartmouth Tuck News)
Starbucks Announces Social Payments in Japan
Starbucks doesn't fear disruption, which is why the company continues to look for new ways to grow its business. The coffee titan recently announced the addition of mobile ordering and payments via the Japanese Starbucks app.
The Starbucks app will also work with Japanese social and messaging platform, Line, to offer additional ways to pay for coffee. The new mobile offerings allow the company to bring Japanese customers deeper into their ecosystem and build more loyalty.
Knowing whether customers will change their payment behavior to accept the new mobile option is anyone's guess, according to Matthew Quint, the director for the Center on Global Brand Leadership at Columbia Business School.
"It's an interesting counter-intuitive situation," Quint said. "[Japanese] consumers are likely to use their phones to enhance their [social] experiences, but they don't think of it as an enhanced payment method, because there's a cultural reluctance to rely on credit as a payment method."

For now, we'll just have to wait and see. Read the full article in Digiday now.
MIT Sloan Entrepreneurs Win $1 Million at Inclusive Innovation Challenge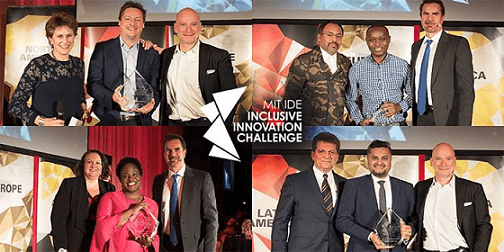 During MIT / Sloan's third annual MIT Inclusive Innovation Challenge, 20 finalist teams from all over the world presented their innovative business ideas in hopes of winning a piece of the $1 million in prize money.
The 20 finalists were chosen from an initial registry of 1,500 organizations, whose submissions were reviewed by 500 judges.
At the November 8th gala, a grand prize winner was chosen in each of four categories:
Financial inclusion
Winner: ftcash, creator of software and hardware for micro-merchants
Income growth and job creation
Winner: Wefarm, an SMS communication system for rural farmers
Skills development and opportunity matching
Winner: CareAcademy, an online professional development platform for caregivers
Opportunity matching and technology access
Winner: Solar Freeze,  a mobile cold-storage unit for harvested crops
In each case, the entrepreneurs who won the challenge demonstrated new ways to use technology that embodied inclusivity.
"When you give incredibly smart, tenacious, motivated people very powerful digital tools, they will do astonishing things," said Andrew McAfee, co-director of the MIT Initiative on the Digital Economy. "We're here to celebrate the amazing innovations that these organizations have created with technology to provide inclusion and to uplift to people around the world."
Learn more about the four winners on the MIT news blog.