Each week, we collect all the MBA news that's fit to print and provide a quick overview of the latest updates from top business schools around the world.
Here's your MBA News You Need digest for the week of June 3, 2019.
UCLA Anderson Names Antonio Bernardo New Dean
UCLA Anderson School of Management has just named its new dean, Antonio Bernardo, an award-winning teacher and respected scholar who has taught at UCLA for the last 25 years and currently holds the Joel Fried Chair in Applied Finance.
Since 1994, Bernardo has had a long and distinguished career at the school. He previously held the Robert D. Beyer Term Chair in Management; he was department chair and senior associate dean for academic affairs from 2006-2009; and he held the finance chair from 2013-2015, and again in 2019.
"Chancellor Block and I are confident that the UCLA Anderson School of Management will continue to thrive under Tony's capable leadership," said Scott Waugh, executive vice chancellor and provost. "Please join me in congratulating him and welcoming him to this new role."
Bernardo's tenure begins July 1.
Read the full announcement here.
INSEAD Launches Master in Management Program
The new Master in Management program at INSEAD is a 10-month accelerated program for young graduates interested in pursuing a career with an international focus.
Designed for young graduates lacking a solid business foundation, the program offers core coursework that provides a broad and deep understanding of key management disciplines such as data analysis, financial reporting, marketing, and operation management.  Students will also have the opportunity to complete six electives on topics such as social media analytics, fintech, blockchain, and more.
Outside the core curriculum, students apply the theoretical knowledge to real-world situations that address themes like "Leveraging Big Data" and "Business Model Innovation."  There's also a unique opportunity for students to participate in two separate field trips either to Abu Dhabi, China, or the U.S.  Finally, students will study at both INSEAD campuses in France and Singapore over the 10-month program.
Yale SOM Offers More Financial Aid for Veterans
Eligible military veterans can now receive the full cost of tuition and fees at Yale SOM. It's all thanks to a newly expanded financial aid program.
For years, Yale SOM has participated in the Yellow Ribbon Program through which the Department of Veterans Affairs matches financial aid provided by schools. Recently, the Yellow Ribbon Program received permission to increase Yale's contribution to ensure aid covers the full cost of tuition and fees. This new aid package will increase funding for all current and future Yellow Ribbon scholars.
"We are thrilled to have this opportunity to lower the financial barrier for military veterans seeking a management education at Yale SOM," said Anjani Jain, deputy dean for academic programs.
Read the full news story on the Yale SOM website.
Meet the 2019 Harvard Business School Leadership Fellows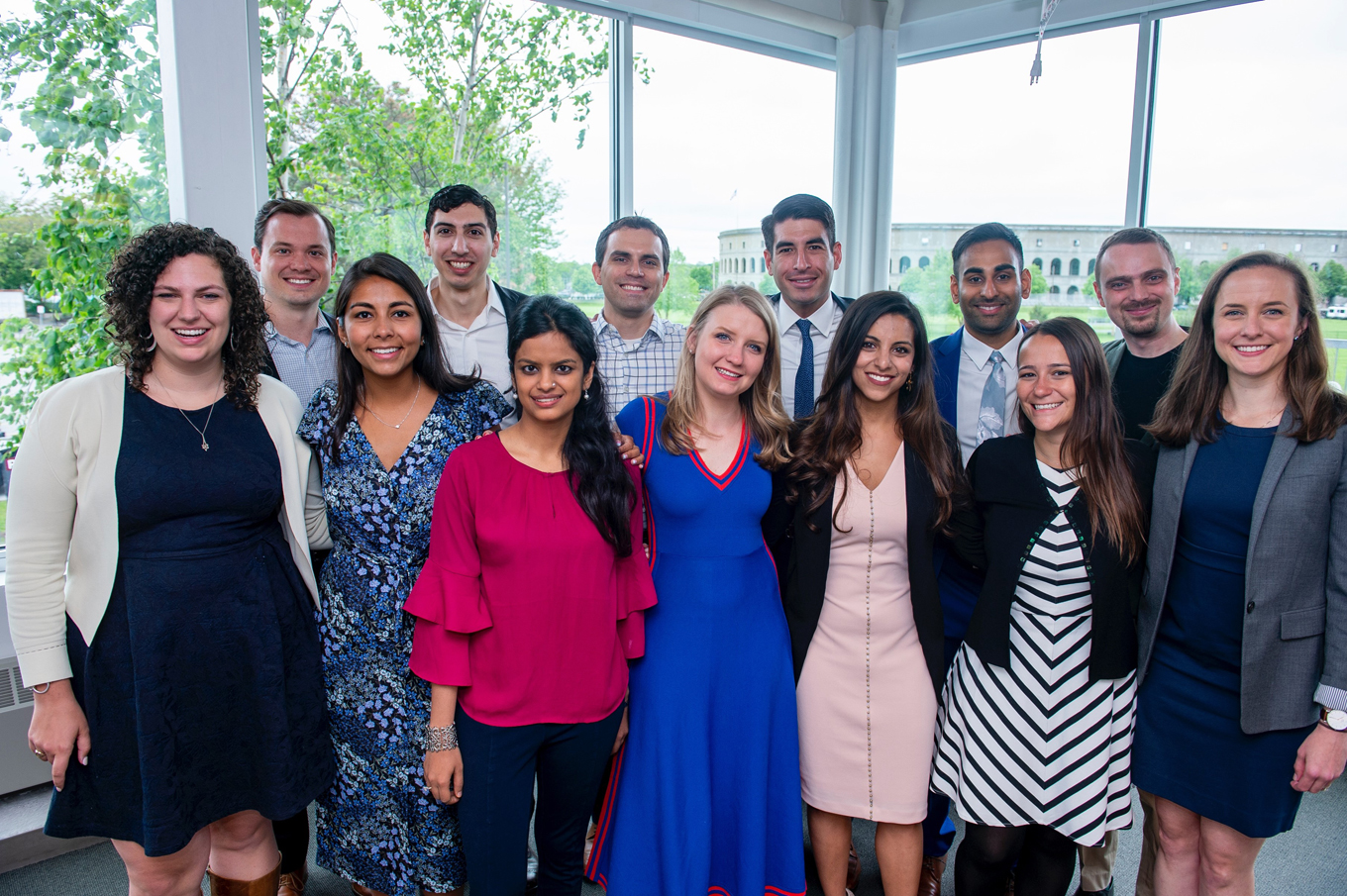 Each year, Harvard Business School recognizes top MBA graduates who plan to work in nonprofit and public sector roles for at least one year.
These individuals are inducted into the Leadership Fellows Program, which engages nonprofit and public sector organizations in a unique arrangement: the Fellowship provides students with high-impact management positions at a competitive salary while hiring organizations receive the experience, energy, and strategic and analytical skills of a Harvard MBA.
Since 2001, the Fellowship has placed more than 223 Fellows at organizations around the country including Harlem Children's Zone, Mercy Corps, and the World Wildlife Fund.
"The HBS Leadership Fellows Program offers our graduating MBAs an unparalleled opportunity to partner with exceptional CEOs and senior executives in the public and social sectors," said Matt Segneri, Director of the HBS Social Enterprise Initiative.
Here is a complete list of this year's fellows:
Jojo Banga, American Civil Liberties Union (ACLU)
Christina Chew, MassHealth
Jorge Echarte, City of Boston Mayor's Office
Inés Fila, Nonprofit Finance Fund
Katharine Gallogly, Teach For America
Jonathan Hanson, The Boston Foundation
Tanvi Jain, Points of Light
Doug Larose, MBTA
Apoorva Pasricha, City of San Jose
Nikhil Patel, City of Detroit Mayor's Office
Megan Williams Rohrer, Boston Planning And Development Agency
Sarah Scalia, Boston Children's Hospital
Nick Serna, MBTA
Michael Silvestri, Social Finance
Read more about the Fellowship and hear from the Fellows here.
Northwestern Kellogg Announces 2019 Youn Impact Scholars
Northwestern Kellogg announced ten new Kellogg Youn Impact Scholars last week.  These individuals are dedicated to using their skills and networks for social impact, exemplifying Kellogg's focus on effecting positive, significant, and sustainable change worldwide. The idea behind the program is to create a support a global community of alumni engaged in a wide variety of social missions and impact endeavors.
Here is a complete list of this year's "Emerging Changemakers" and "Impact Leaders:"
Emerging Changemakers
Sahar Jamal
Lauren Levine
Dwight Hopkins
Han-Wei Wu
Megha Kosaraju
Impact Leaders
Michael Whelchel
Hydie Hudson
Kevin Marinacci
Megan Zamora
Victoria Zimmerman
"This new cohort reflects the breadth of work Kellogg is engaging in around the world: from public health innovation to impact investing, education, sustainability, and beyond," said Megan Kashner, Kellogg Clinical Assistant Professor and Director of Social Impact.
"We are proud and pleased to welcome this new group and eager to see the community of Kellogg Youn Impact Scholars grow."