A common goal among those planning to pursue MBA is changing careers.  In this MBA ApplyWire Spotlight, we highlight a recent entry in Clear Admit's ApplyWire from an MBA applicant hoping to transition from the navy to investment banking.  As they plan to apply to Berkeley / Haas, Columbia, Harvard Business School, Stanford GSB, U. Chicago Booth, and UPenn / Wharton, they had some concerns that our community helped to ameliorate. Read on for the details.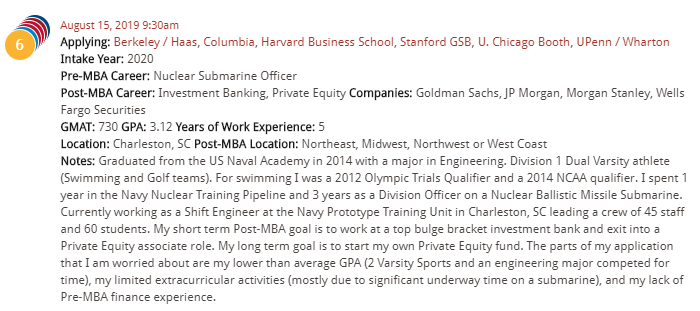 A community member kicked off the conversation:

Resident expert, Alex Brown, then offered his advice:

The original poster then returned:

And Alex wrapped up the conversation:

Best of luck with your applications!  And if you want more about MBA ApplyWire and admissions profiles, check out our latest WireTaps podcast episode!
Readying your applications? Do you know which business schools you will be applying to? Share your story on ApplyWire. It's completely anonymous and only takes a minute to complete.