Each week we collect MBA news from around the world to give you a quick overview of the latest trending topics from leading business schools.
In your MBA News You Need digest for the week of November 11th we discuss the launch of Stanford GSB's new Social Impact Lab, introduce the eight recipients of the Wharton Data Science and Analytics Fund, reveal common MBA applicant questions at Dartmouth Tuck, walk through diversity weekend at UT Austin McCombs, and delve into MBA academics at UCLA Anderson.
Stanford GSB Launches Social Impact Lab
Social sector organizations face a lot of challenges, especially when it comes to the overall efficacy of their impact. The new Golub Capital Social Impact Lab at Stanford Graduate School of Business aims to use advanced digital innovation and groundbreaking research to provide tangible outcomes that improve the social sector.
Led by Faculty Director Susan Athey, the Golub lab is a cross-disciplinary initiative comprised of experts across the greater Stanford University community. The Golub lab is focused on two principal activities:
Original Research: Teams will work directly with social impact partners to optimize their digital innovation. Focus areas include machine learning, data-driven personalization, and adaptive assignment.
Innovative Technology Solutions: Based on research projects, the lab will work to develop, promote, and apply innovative technology solutions and best-practice methodologies to social impact organizations.
"The launch of the Golub Capital Lab reinforces the school's commitment to driving social impact and innovation," said Jonathan Levin, dean of Stanford GSB.
Wharton Announces Data Science and Analytics Fund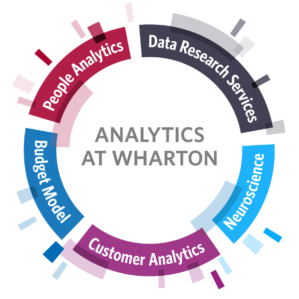 Wharton's Data Science and Business Analytics Fund will support eight recipients as they develop projects that cover a range of topics, including predictive analytics, machine learning, and a new Women in Analytics conference.
The winning projects were selected from 23 proposals and "collectively reflect the incredible breadth of analytics knowledge being created at Wharton," said Vice Dean of Analytics, Eric T. Bradlow.
The fund is made possible thanks to an anonymous donation of $15 million, which launched Analytics at Wharton in May 2019. The fund's goal is to help accelerate Wharton's innovations and solve complex challenges using sophisticated analytical tools.
Recipients include:
Data Science for Finance—Finance Professor Michael R. Roberts
Effective Text Processing in New Domains: Transfer Learning for Word Embeddings—Assistant Professor of Operations, Information and Decisions Hamsa Bastani
Environmental, Social and Governance Analytics—Professor of Management Witold Henisz
People Analytics Video Project—Executive Director of Wharton People Analytics Laura Zarrow
The Promise and Peril of Algorithms in Human Resources—Associate Professor of Operations, Information, and Decisions Prasanna Tambe
The Science of the Deal: Deep Reinforcement Learning for Optimal Bargaining on eBay—Assistant Professor of Operations, Information, and Decisions Etan A. Green
Wharton Forensic Analytics Lab—Associate Professor of Accounting Daniel Taylor
Women in Analytics and Data Science Conference—Executive Director of Wharton Customer Analytics Mary Purk and Professor of Statistics Linda Zhao
Dartmouth Tuck Common MBA Applicant Questions
It is application season at Dartmouth Tuck, which means the admissions team is starting to receive many questions from candidates. To help alleviate stress and give candidates the confidence they need to apply, Tuck's Executive Director of Admissions and Financial Aid Luke Anthony Peña wrote a blog post answering the most common MBA applicant questions:
International students and the U.S. job search: Tuck Career Services advisors work directly with students in their job search. They are in regular communication with companies and recruiters to keep an eye on international hiring trends. Last year, the majority of Tuck students who applied for an H1B visa received one.
Financial aid at Tuck: 94.6 percent more new students, compared to the Class of 2019, received a scholarship and the average award size has increased. There are more scholarships with higher dollar amounts available to Tuck MBA applicants than ever before.
New at Tuck: TuckGo received a $25 million donation to enhance the program. In addition, the new Irving Energy Institute will open in Fall 2021. The Tuck MBA first-year core curriculum has also undergone enhancements with a new two-week long orientation.
S. Recession: If a U.S. recession transpires, an MBA might be more valuable than ever since hiring will become more competitive and applicants will need something to stand out.
Learn about what Dartmouth Tuck looks for in MBA applicants, application evaluation, and more here.
UT Austin McCombs Hosts Diversity Weekend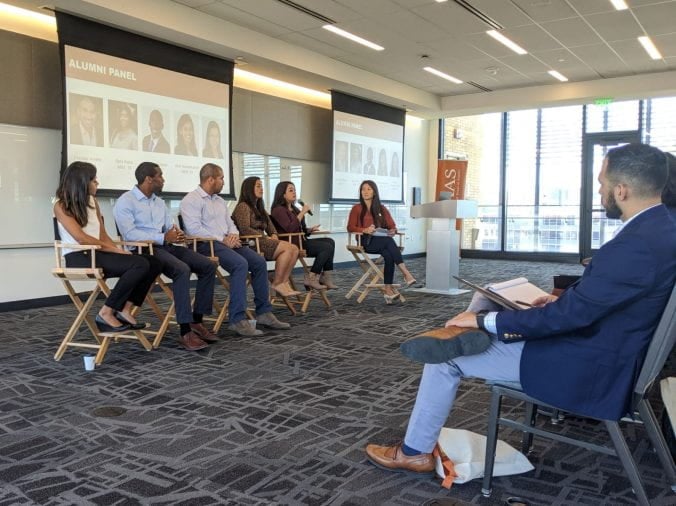 In October, UT Austin McCombs welcomed 84 MBA students to campus for its annual Discover McCombs: Diversity Weekend. The two-day event, focused on increasing underrepresented populations in business school, brought together students, staff, alumni, and faculty.
The event kicked off with a networking reception after which attendees hung out for a casual "get to know each other" time at a popular Austin nightspot. The next day, attendees were welcomed by McCombs' assistant dean Tina Mabley.  Student panels discussed their experiences in the McCombs MBA program and an alumni panel closed out the morning with a discussion on how to navigate post-MBA life.
Attendees then enjoyed another networking event over lunch while talking about "class culture" before attending class breakouts so that they could immerse themselves in student life. Finally, the two-day event closed with several speakers talking about the importance and value of an MBA.
UCLA Anderson Discusses Academics in Your MBA Application
UCLA Anderson students are not only expected to master business fundamentals in their core classes, but they must tackle academically rigorous electives as well. To ensure that students can handle their coursework, the admissions team carefully screens applicants based on their past school performance. However, GPA is not all that matters; Anderson looks at the rigor of your undergraduate school, major, coursework, trends in grades, and context.
The admissions team understands that every application contains some weak spots. UCLA Anderson seeks applicants who consistently performed above their peers at similar schools and in similar concentrations.
If you feel your academic profile leaves something to be desired, professional certifications such as the CPA or CFA can help. You can also take classes in accounting, finance, and statistics at your local community college to improve your transcripts.