As Round 2 interview invite season continues, Alex and Graham discuss Harvard's release date (Wednesday of this upcoming week) – something your hosts had indeed speculated would be the case in last week's episode. Graham also highlighted the latest Real Humans piece from Georgetown / McDonough and noted some fun facts and figures from the employment reports for MIT / Sloan and Yale SOM. Your hosts then discussed the latest MBA rankings from US News – for online programs – and wondered why Michigan / Ross was not included.
As has been the case of late, this episode features two ApplyWire entries and a DecisionWire entry:
First up Alex and Graham look at an 'early bird' candidate for next season who is really trying to figure out whether the MBA is the right next step. She has an interesting background as a refugee who is now working in clinical research. If she aces the GMAT, and really develops a concrete post-MBA plan, top programs should be very interested in her profile. Next, Alex chooses a profile that has two parts to it: on the one hand there is really interesting and impressive looking work experience across parts of Africa – showing very good levels of impact. On the other hand, a sub-3.0 GPA is cause for serious concern. Finally, from DecisionWire, our hosts look at a candidate who is weighing options between UVA / Darden (without a scholarship) and Cornell / Johnson (with $80K). They are seeking a consulting career, but may also look into investment banking…
Potentially very strong candidate, needs to shape their story: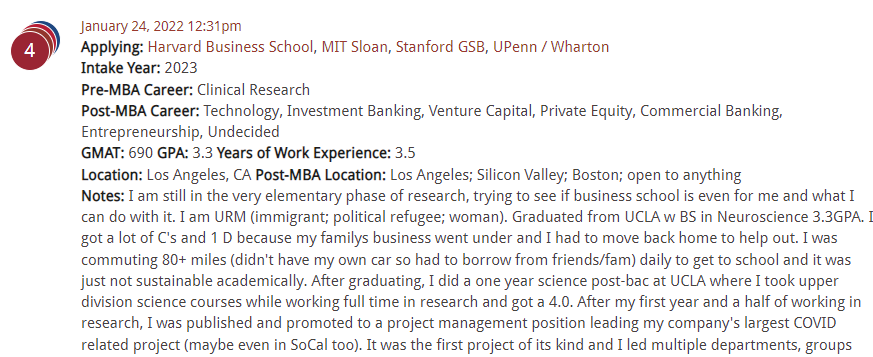 A candidate with very interesting work experience, but is the GPA a killer?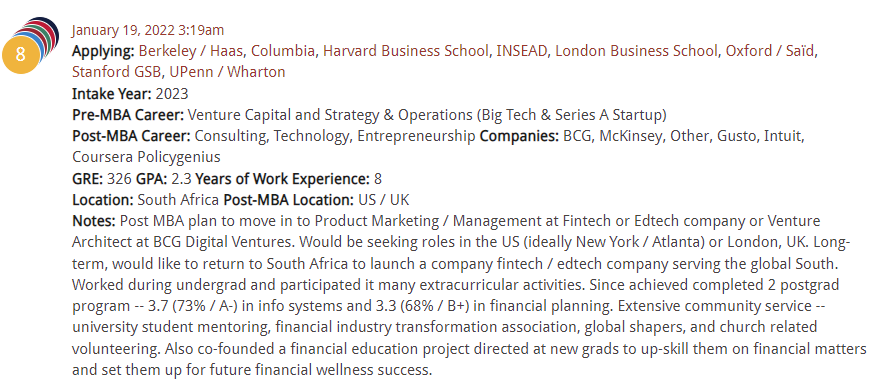 Darden versus Johnson + $80K, consulting but maybe IB:

Happy listening!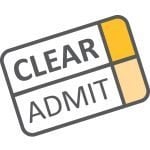 Be sure to post to MBA ApplyWire, MBA DecisionWire or MBA RankingsWire if you'd like Graham and Alex to offer admissions advice.
If You Like What You've Been Hearing, Please Subscribe and Rate Us on Apple Podcasts!
It's been wonderful seeing the audience for our podcast series continue to grow! Please, if you have enjoyed what you've heard, could you rate and review the Clear Admit MBA Admissions Podcast in Apple Podcasts? This is the best way to help more listeners find us. Also, to ensure that you never miss an episode, please subscribe to the podcast on whatever platform you use.
This episode was hosted by Graham Richmond and Alex Brown, and produced by Dennis Crowley. Thanks to all of you who've been joining us!