This week's episode of the podcast offers further details of Alex and Graham's recent trip to London, followed by discussion of all the latest MBA admissions news. In particular, Alex noted this week's application deadline for HBS's 2+2 program. Graham also highlighted the recent 'Real Humans: Alumni' pieces, including a Columbia graduate working at Google, a NYU / Stern graduate who landed at Apple, a Chicago / Booth graduate working at Microsoft, and an HBS alum also at Microsoft. Graham then noted Clear Admit's upcoming events schedule, with a series of Application Overview workshops slated for every Wednesday in May. First up, on May 4th, we have Berkeley / Haas, INSEAD, Yale SOM and Michigan / Ross. Signups are here: https://tinyurl.com/clearadmitevents Alex also encouraged listeners to add their entry to https://www.clearadmit.com/decisionwire if they've completed their application journey.
As usual, this week's episode also featured three candidates – two from ApplyWire entries and a one DecisionWire entry.
First up Alex selected an enlisted military candidate who has a modest GPA (3.1), but a very decent GMAT score (730). The question is, would a better GMAT score (780) make any difference? Graham and Alex recommend they might try this, while also taking HBS CORe or MBA Math. With that said, the candidate's enlisted experience sounds very decent, and perhaps strong enough to help them stand out. This week's second candidate is another military applicant; an officer with an outstanding GPA and special ops experience. The weakness in this instance is the GRE (318). Likely they will still have access to some of the target programs they've listed, but Alex and Graham think they need to retake the GRE and aim higher. Finally, from DecisionWire, Alex selects a candidate who is looking to do tech entrepreneurship and is weighing Haas (with significant scholarship) versus Wharton (less money) and Harvard. They want to be on the west coast, post-MBA. All three are very viable.
Enlisted military candidate with a modest GPA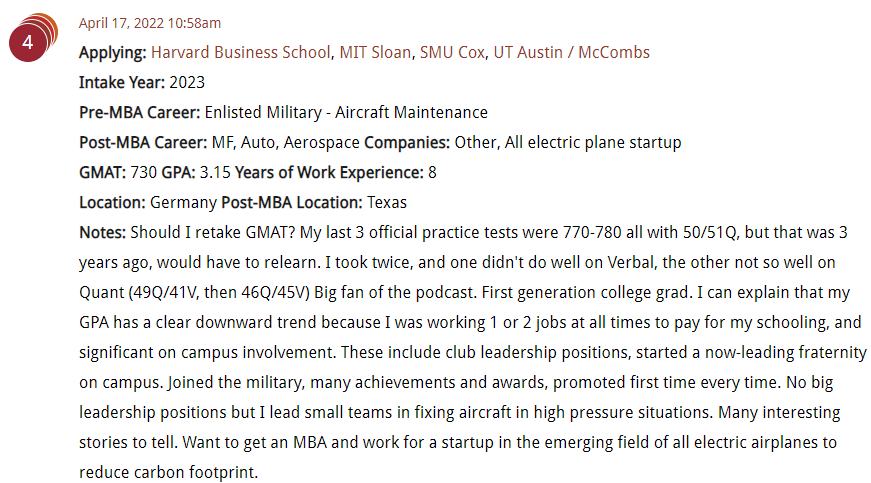 Military officer with a modest GRE score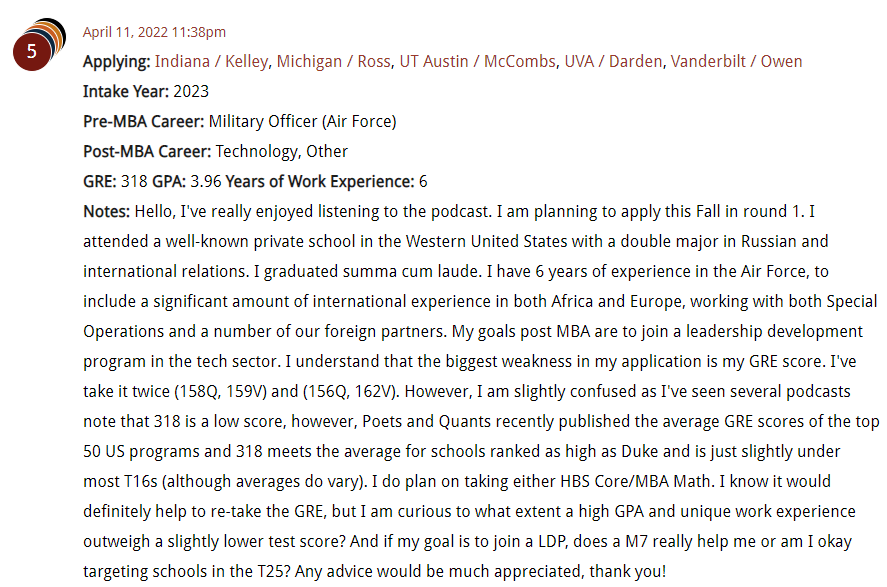 Haas ($$) versus Wharton ($) and HBS for tech entrepreneurship

Happy listening!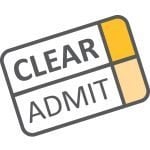 Be sure to post to MBA ApplyWire, MBA DecisionWire or MBA RankingsWire if you'd like Graham and Alex to offer admissions advice.
If You Like What You've Been Hearing, Please Subscribe and Rate Us on Apple Podcasts, Spotify, or Amazon Music!
It's been wonderful seeing the audience for our podcast series continue to grow! Please, if you have enjoyed what you've heard, could you rate and review the Clear Admit MBA Admissions Podcast wherever you listen? This is the best way to help more listeners find us. Also, to ensure that you never miss an episode, please subscribe to the podcast.
This episode was hosted by Graham Richmond and Alex Brown, and produced by Dennis Crowley. Thanks to all of you who've been joining us!