Fiyin Haastrup, Boston Carroll MBA Class of 2024
Age: 27 
Hometown: Lagos, Nigeria 
Undergraduate Institution and Major: University of Essex, UK – Financial Economics
Pre-MBA Work Experience (years, industry): 4 years, Finance Industry 
Why did you make the decision to attend business school? Why now? 
Over the span of my career, I have had the opportunity to work with some of the most accomplished technological founders in Africa. Working to secure funding for SaaS businesses and tech-enabled businesses, I realized that the fundamental problem with accessing capital for tech-enabled companies on the continent is not an absence of capital, but that potential investors do not always understand technological innovation. They are wedded to their traditional ways of thinking and are not open to some of the risks that come with investing in technology. I identified key areas of personal and professional development that business school could help me with to achieve my short and long-term goals of ultimately bridging this gap between local investors and businesses. 
Why now? There is no time better than the present.
Why did you choose Boston Carroll? What factors figured most prominently into your decision of where to attend? 
The focus on data analytics 

The interdisciplinary approach 
In today's professional world, data analytics is a highly sought-after skill. BC's focus on this gives its MBA candidates a competitive advantage when recruiting. 
Boston College's interdisciplinary approach provides the opportunity to consult with real-world companies, develop business ideas in experiential lab classes, and apply classroom learning that allows me to provide solutions to complex problems surrounding business practices.
What do you think is your most valuable or differentiating contribution to the Class of 2024? 
During class and group discussions, I find that I bring an international perspective when providing solutions or adding insights to topics being discussed. 
Tell us a fun fact about yourself that didn't get included on your application: 
I have lived away from my parents since the age of 10. My experiences have opened me up to a diverse group of people, and I have witnessed how different experiences shape our views. It has taught me how to communicate and work with people from different backgrounds.
Post-MBA career interests:
Digital Transformation and Strategy Consulting.
Advice for Current Prospective Applicants: 
–What is one thing you would absolutely do again as part of your application process? Speak to current BC MBA students about their experience. 
–What is one thing you would change or do differently?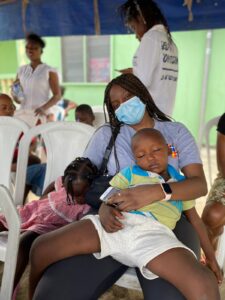 I would socialize and network with incoming students in my cohort before the program starts.
–What is one part you would have skipped if you could—and what helped you get through it? 
Having to write the GMAT (lol). – My motivation to get into business school helped me get through the prep phase of taking the GMAT.
What is your initial impression of the Carroll students/culture/community? 
An extremely welcoming community. Faculty and students genuinely want to help to make your experience during the program better.
What is one thing you have learned about Carroll that has surprised you? 
Our lecturers are really approachable and are always happy to help. It is evident that they want you to understand what is being taught and want you to succeed in your career. 
What is one thing you are most anxious about in your first year? 
Recruiting as an International student.
What is one thing you are most excited about in your first year?
Learning a new set of skills (especially with data analysis) and making new friends.