Jedson Barbosa, Boston Carroll MBA Class of 2024
Age: 35
Hometown: Cachoeiro de Itapemirim, Brazil
Undergraduate Institution and Major: Missouri Baptist University; Double Major: Business Administration, Marketing
Pre-MBA Work Experience (years, industry): 11 years, Hospitality Industry

Why did you make the decision to attend business school? Why now?
Given the difficult circumstances arising in 2020 from the global pandemic and trying to navigate an industry that was drastically impacted by Covid-19, the unprecedented issues in the hospitality industry made me reassess my long-term career goals. I knew that business school would provide me with the academics, technical skill sets, and experiential learning necessary for me to pivot dramatically in my professional career.
Why did you choose Boston Carroll? What factors figured most prominently into your decision of where to attend?
The Carroll School of Management has a reputation as one of the leading business schools in the nation.  Carroll's rigorous and innovative curriculum, combined with its exceptional network of faculty and alumni business leaders, factored heavily in my decision to attend Carroll.  Additionally, throughout the application process, I had the opportunity to speak with current MBA candidates who embrace BC's values and culture. They made it evident to me that the program goes above and beyond to ensure every student has an inclusive personalized support system to help them achieve academic and professional success.
What do you think is your most valuable or differentiating contribution to the Class of 2024?
The small cohort aspect really pushes the entire class to work collaboratively and creates long-lasting relationships. It's fascinating how BC's MBA program integrates a diverse background that allows us to learn from everyone's unique experiences. My personal culturally diverse background, combined with my professional work experience that has given me the opportunity to work with people of many diverse cultures, ethnicities and backgrounds, provides me with a unique and valuable perspective that I bring to the table at Carroll.
Tell us a fun fact about yourself that didn't get included on your application:
Every year I play in a volleyball tournament with friends, both Brazilian and American, whom I have met and developed close friendships with when I used to play the sport competitively. It's a great reunion!
Post-MBA career interests:
Brand Management/Marketing, Finance.
Advice for Current Prospective Applicants:
–What is one thing you would absolutely do again as part of your application process?
I would research and learn about the program inside and out.  I participated in numerous coffee chats with BC's MBA Ambassadors – current MBA students who have a deep understanding of the program and its resources. The conversations were extremely valuable in learning about the program and creating new relationships and networks that are essential to my success.   
–What is one thing you would change or do differently? 
I would have started the application process earlier.  There are so many resources to take advantage of, and, if I had more time, I would have been able to leverage more of them – and perhaps alleviated some of the pressure I put on myself!  The Carroll School of Management was my top choice, given its strong academic reputation and the strong relationships it has with companies in Boston. Therefore it was important for me to dedicate enough time during the application process to be thorough and succeed.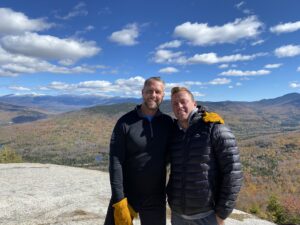 –What is one part you would have skipped if you could—and what helped you get through it?
It is extremely hard not to be nervous during an MBA interview.  Being able to skip that step would have alleviated a tremendous amount of stress and anxiety.  However, the interview provides an excellent opportunity for the interviewer to really get to know the candidate, which is critical to the selection process. I was able to get through it by being myself – and taking lots of deep breaths!
What is your initial impression of the Carroll students/culture/community?
I'm really impressed with the collaborative and enthusiastic BC MBA community. The entire program is very well structured, from admissions, career development, to the academic body. The program is designed to ensure every student achieves success post-graduation.
What is one thing you have learned about Carroll that has surprised you?
The strength of the alumni network is one of the aspects that has, without a doubt, surprised me. A BC alumnus reached out to me one week after my admission.  We quickly established a relationship, and he has mentored and advised me.  I knew for sure that I had made the right choice when new and meaningful relationships were being established even before classes started.  That has made such a positive impact on my entire MBA journey.
What is one thing you are most anxious about in your first year?
Finding the right balance between class and academic work and personal life. Making sure that I am able to properly manage my time so that I can succeed academically while also taking advantage of the unevaluable opportunities that Carroll and BC have to offer.
What is one thing you are most excited about in your first year?
I'm looking forward to being part of such a diverse program and being surrounded – and challenged – by brilliant and ambitious students with incredible skill sets in their fields.  I am also extremely excited about my Summer 2023 internship at P&G Gillette.