Isabelle "Izzy" Weisman, Boston Carroll MBA Class of 2024
Age: 29
Hometown: Westfield, New Jersey
Undergraduate Institution and Major: Hamilton College, Geosciences (undergraduate); Vanderbilt University, Earth and Environmental Sciences (M.Sc.).
Pre-MBA Work Experience (years, industry): 4.5 years, Research, Consulting.
Why did you make the decision to attend business school? Why now?
I chose to attend business school because I wanted to pivot careers, fill a skills gap on my resume, broaden my academic and professional network, and propel myself into a leadership position.
After graduating from Hamilton College, I was fairly certain that I would one day become a professor. The day after graduation, I drove down to Vanderbilt to start my Master's program. After completing my M.Sc. degree in 2017, I decided that I wanted to gain work experience outside of an academic environment. I was fortunate to land a position at a Department of Energy National Laboratory in Livermore, California. While I enjoyed my work, I ultimately discovered that I wanted to stay in the workforce and apply my strong technical and analytical skills in a business setting. I landed a job at an environmental consulting firm in Cambridge, MA, and spent the next few years performing highly collaborative and meaningful work. However, after many years studying and working in the Earth Science field, I felt I was ready for something new, and Business School was a natural next step.
Why did you choose Boston Carroll? What factors figured most prominently into your decision of where to attend?
I chose to attend the Carroll School of Management for three reasons:
The emphasis on Data Analytics. Most jobs these days require you to work with large data sets. The curriculum would provide me with the opportunity to sharpen my technical skills and give myself an 'edge' in an interview.

The small class size. I knew that If I attended BC, I would be able to form meaningful relationships with my professors, career advisor, and classmates.

The strength of the alumni network. BC alumni are fiercely loyal to the school and its students. I knew that having a tight-knit alumni base would be helpful from a networking and career growth perspective.
What do you think is your most valuable or differentiating contribution to the Class of 2024?
In addition to caring about my own success, I also deeply care about my classmates' success. I'm always happy to discuss a problem set, a confusing topic in class, proofread a cover letter, or do a mock interview with a classmate.
Tell us a fun fact about yourself that didn't get included on your application:
I am a huge classical music fan.
Post-MBA career interests:
Economic Consulting or Finance.
Advice for Current Prospective Applicants:
–What is one thing you would absolutely do again as part of your application process?
Before I attended BC, I made a point to speak to numerous current BC students and alums of the MBA program. This helped me determine if I would be a good fit for the culture of the program and gave me insight into the professional outcomes of the program.
–What is one thing you would change or do differently?
I would have taken a little bit more time off before starting the program. The first term is extremely intense and I probably could have benefited from more time to decompress after leaving my job.
–What is one part you would have skipped if you could—and what helped you get through it?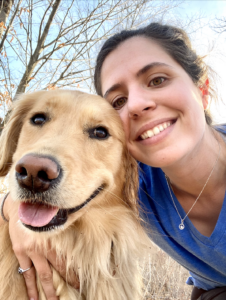 Before starting my MBA, I took a Pre-MBA math course while I was still working full-time. I think the return on my invested time was pretty minimal, and I could have benefited from enjoying my free time more. I was fortunate to have an extremely supportive partner (and dog!) who motivated me to work hard and encouraged me to take breaks and get outside.
What is your initial impression of the Carroll students/culture/community?
The second-year students at the Carroll School are extremely generous with their time and are committed to making BC a welcoming and inclusive environment. Numerous second-year students have made themselves available to chat, offer advice, and support me through the first year of my MBA. They also recently created a formal mentorship program for first-year students which has been incredibly helpful. I'm also very impressed by my professors and their desire to have their students learn and succeed. Before starting my MBA, I was very nervous about taking Accounting, as I've heard it's very difficult and had never taken a course in it before. Although the class itself is challenging, Professor Bradshaw communicates the material in an understandable way and provides real-world case studies for us to learn from. I know that I will leave this program with strong, applicable skills and knowledge.
What is one thing you have learned about Carroll that has surprised you?
I was surprised by the diversity of professional and academic backgrounds of my classmates. Before attending BC, I thought that I would "stick out" because I did not have a finance/accounting background – I couldn't have been more wrong. My class is extremely diverse, consisting of individuals from around the world, former professional athletes, portfolio managers, engineers, and more.
What is one thing you are most anxious about in your first year?
I definitely feel a lot of pressure to get the "perfect" summer internship. I'm adjusting to a new schedule and new demands on my time. It feels challenging to balance school work, networking, and interview prep.
What is one thing you are most excited about in your first year?
I'm most excited to be in an environment that is outside of my comfort zone. I'm excited to challenge myself in new ways and grow as an individual and as a future leader.
Has the COVID-19 pandemic affected your personal application or admissions process in any way? If so, how?
We had the option to waive standardized testing in our application cycle. However, I decided to take the GRE because I knew it would be one additional credential to highlight my strengths and help me stand out in the application process.