Sarah Barrett, Boston Carroll MBA Class of 2024
Age: 36
Hometown: Cincinnati, OH / Brussels, BE
Undergraduate Institution and Major: University of Notre Dame, English and Sociology
Pre-MBA Work Experience (years, industry): 3 years, B2B and B2C tech sales; 3 years, financial operations and administration; 2 years, market research; 3 years, customer service; 3 years entrepreneurship/tutoring; 1 year, paralegal; 1 year consulting
Why did you make the decision to attend business school? Why now?
I'd intended to use my degrees in English and Sociology to begin a career in print journalism. When I graduated, that industry largely disintegrated, prompting nearly a decade of soul-searching to find the best industry for my transferrable skillset. Right before I got pregnant with my son, I'd decided it was time to go back to business school. The timing for me to pursue that goal finally felt right last winter. I knew my son was old enough that we could navigate this major life change. I knew I needed the core business savvy and financial acumen that an MBA would provide to pivot successfully.
Why did you choose Boston Carroll? What factors figured most prominently into your decision of where to attend?
I chose to attend BC because of the strength of its generalist MBA program, Jesuit education, and small class sizes, where I knew I would be able to earn the holistic skillset and have the 1:1 mentorship time with my professors I wanted.
What do you think is your most valuable or differentiating contribution to the Class of 2024?
My path into the Class of 2024 was quite untraditional. My diverse professional experiences across many industries, as well as my real-world life circumstances, bring a lot to the contributions I make in class. I am able to offer my classmates and professors alike new perspectives and anecdotes to further our learning.
Tell us a fun fact about yourself that didn't get included on your application:
I learned to ski when I was 2 years old, mostly skiing in Michigan and New Hampshire. When I was 11, my family moved to Brussels, BE, and I had the amazing opportunity to ski the Alps every December with my family, and every February with my friends. I am now teaching my son to ski.
Post-MBA career interests:
I look forward to pursuing a career in product management, with a focus on CPG or consumer tech marketing.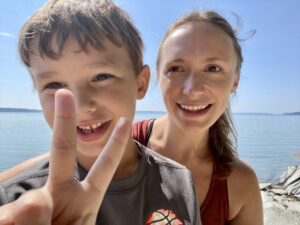 Advice for Current Prospective Applicants:
–What is one thing you would absolutely do again as part of your application process?
I highly recommend taking advantage of any current student touchpoints your prospective schools offer. The anecdotes I learned via my participation in these activities were invaluable in gaining honest perspectives on what it meant to be a student at each respective institution.
–What is one thing you would change or do differently?
I honestly wouldn't change a thing.
–What is one part you would have skipped if you could—and what helped you get through it?
The one thing I would have skipped, I did; I was fortunate in that I did not have to take the GMAT due to the COVID-19 waiver option. I looked into the test but decided my efforts were best focused on my essays.
What is your initial impression of the Carroll students/culture/community?
I am very impressed (though not surprised) by the incredible engagement, diversity, and vibrancy of the CSOM students, culture, and community. The professors are wonderfully accessible as well.
What is one thing you have learned about Carroll that has surprised you?
I was surprised by how easily I am able to apply concepts I've learned across classes. The case analysis structure of classes really fosters these conceptual intersections and has been wonderful in helping those ideas coalesce.
What is one thing you are most anxious about in your first year?
I am a bit anxious about finding a summer internship. I know it will happen, but I also know I need to prioritize that as much as I do my coursework, and that's a balancing act.
What is one thing you are most excited about in your first year?
I am excited to continue learning and to see how I can apply that learning in my internship next summer.
Has the COVID-19 pandemic affected your personal application or admissions process in any way? If so, how?
Yes. My application and admissions processes were done entirely remotely, with only one exception. Despite that, and maybe even thanks to that, I had ample access to the campuses and contacts at the various institutions I applied to, and felt strongly about my final decision.