Joe Collias, Boston Carroll MBA Class of 2024
Age:  26
Hometown: Wilton, CT 
Undergraduate Institution and Major: University of Maine, Business Management 
Pre-MBA Work Experience (years, industry): 4 years, United States Army Infantry Officer
Why did you make the decision to attend business school? Why now?
I made the decision to attend business school because I had just completed four years as an active-duty Army infantry officer and was ready for a new challenge. Business school offered me a path to pivot from my career in the Army to a career in management consulting. Building my analytical skills, expanding my professional network, and gaining exposure to a wide breadth of industries were all aspects of the MBA experience that were a strong draw for me. 
Why did you choose Boston Carroll? What factors figured most prominently into your decision of where to attend?
I chose to enroll in Boston College Carroll School of Management primarily due to its small class size, the core curriculum of data analytics, and its proximity to Boston. My class size is approximately 80 students, and we get to know our professors and classmates very well. The data analytics program does a great job of building competency working with large data sets, and it covers a breadth of coding languages, including SQL, Python, and R. The proximity to the city of Boston allows for access to great companies – particularly in the biotech, consulting, and financial services industries. 
What do you think is your most valuable or differentiating contribution to the Class of 2024?
I bring a unique perspective to the classroom from my military experience. During my time in the Army, I had the opportunity to work in diverse and cross-cultural teams in Eastern Europe and the Middle East. I enjoy contributing anecdotes from military operations which apply to the teamwork skills we discuss in the classroom. 
Tell us a fun fact about yourself that didn't get included on your application:
I am an avid skier and have skied throughout the Appalachian Mountains, Rocky Mountains, and the Alps.  
Post-MBA career interests:
Management Consulting 
Advice for Current Prospective Applicants:
–What is one thing you would absolutely do again as part of your application process?
Speak to a wide range of people who have attended the school you are most interested in. Be sure to speak with not only current students but also alumni who are two-years, three-years, and four-years post-graduation.
–What is one thing you would change or do differently?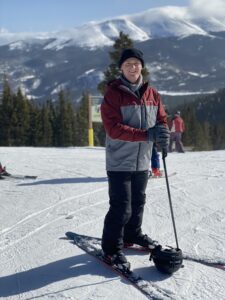 Business school is not a solo adventure, be sure to speak with as many people as possible who have pursued this path. I have learned as much or more from my fellow MBA students than I have from my professors. I wish I had tapped into this resource during the application process. 
–What is one part you would have skipped if you could—and what helped you get through it?
I found the admission essays to be particularly challenging and rewrote my essays several times. I would have allocated more time to that aspect of my applications. Honest feedback from trusted advisors really helped me through it. 
What is your initial impression of the Carroll students/culture/community?
Carroll is an incredibly tight-knit and supportive group of people – a true community. The small class size allows you to build close relationships with not only your fellow students but also the professors and administrators.
What is one thing you have learned about Carroll that has surprised you?
In many respects, I did not know what to expect as a transitioning veteran entering an MBA classroom. I have been overwhelmed by the amount of support and encouragement I have received from the program (including professors, administrators, and fellow students). I can honestly say that I attend a school that truly supports its veteran students.
What is one thing you are most anxious about in your first year?
There are some technical classes that cover topics with which I have zero background in. They will be an exciting challenge. 
What is one thing you are most excited about in your first year?
Carroll has so many great opportunities to get exposure to many different companies and industries. As a recently transitioned veteran, I am most excited about finding a company that is the right fit for me. 
Has the COVID-19 pandemic affected your personal application or admissions process in any way? If so, how?
Boston College offered both in-person and online events, this was great because I was living far away from Massachusetts when applying.