Fridays From the Frontline
Hello and Welcome to Fridays From the Frontline, Clear Admit's weekly perusal of the peripatetic b-school blogosphere. Indeed, this week's posting presents a plethora of exciting plans and perceptions  for our bloggers, whether in making decisions for next year, or in contemplating the MBA experience.  This week we are also excited to announce the Best of Blogging Awards. Check out the link for the competition details, and check back here later today for the announcement of Friday From the Frontline's nominated bloggers!
MBAReApplicant has made the final decision in chosing among  Darden, Tepper and UCLA, and is looking forward to matriculating with the Anderson Class of 2016 in sunny California. We at Clear Admit send best wishes for the years ahead, and  hope that MBAReApplicant will continue putting  thoughtful and interesting updates on the blog throughout the MBA experience. Sarah'sMBAJourney, on the other hand,  is experiencing a dizzying array of options for next year, and still hasn't decided where to continue her studies.  HongKongtoINSEAD has picked up on a  trend from last week's posters and has excellent and useful recommendations for the world-traveling MBA student, as well as an accounting of scaling the mountain of pre-reading required by INSEAD. MBAtheNonProfitWay has another addition to the business-related audio book reviews, while also discussing the challenge of showing creativity and unique interests in a few short bullets on the resume.
Meanwhile, on business school campuses, TwoYearsatHBS is celebrating the long-awaited arrival of spring on Harvard Business School's Boston campus, while ccatcher is celebrating (in every way) the last week on the UVA campus before her graduation from Tepper.  Finally, on the FromMilitarytoMBA blog, an former Army Ranger in his first year at McCombs, has a fascinating and useful discussing of transitioning into the MBA experience, and how pre-MBA programs helped in that process.
And that's all the news for this week's edition of Fridays From the Frontline. We hope that all of our readers are enjoying pleasant spring weather, as we here are on the East Coast. We  also hope that applicants continue to update us with information about statuses and future plans, and that current students also update their blogs with the latest from their campus and classroom lives.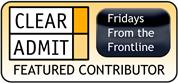 Want to join the Fridays From the Frontline community and see your blog featured regularly in this column? Just follow this link and add the FFF badge to your blog and then  email us at [email protected] with your URL so we can make sure to add you to our weekly roundups.