The CES also oversees the relationship between Stanford GSB and the greater Stanford Entrepreneurship Network (SEN), an umbrella group for approximately 30 entrepreneurship-related organizations across Stanford's campus. Major SEN initiatives include Entrepreneurship Week, an annual line-up of events and speakers held each year in late winter, and Coaches-on-Call, which pairs professionals from a number of industries with interested students for one-on-one office hours.
Stanford also boasts a leading business plan competition, the BASES $150K Challenge, which awards up to $150,000 to the winners of three competition tracks: the Entrepreneurship Challenge, the Social Entrepreneurship Challenge and the Product Showcase tracks.
Together, these and other initiatives have fueled a steady stream of Stanford GSB founders. A June 2015 article published on Medium entitled "What Do Stanford GSB Founders Look Like?" identified 434 founders from GSB classes between 2008 and 2014 who together have raised close to $2.5 billion in capital across 127 funded companies. The Stanford alums who penned the article noted that Stanford averaged 59 founders per year compared to 38 per year for HBS during the same time period.
Wharton Entrepreneurial Programs (WEP): Soup to Nuts for Startups
Wharton's website claims it was the first to develop a fully integrated curriculum of entrepreneurial studies—back in 1973. That program today is called the Goergen Entrepreneurial Management Program, endowed in 1997 by Wharton alumnus and benefactor Robert Goergen WG '62. At its helm is Vice Dean of Entrepreneurship and Innovation Karl T. Ulrich, an expert in innovation, entrepreneurship and product development who holds 23 patents. He leads a world-class faculty of close to 20 professors and practitioners who teach courses and guide initiatives for entrepreneurs.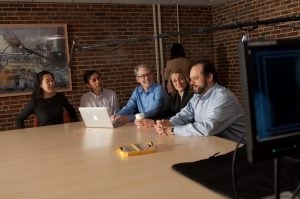 Wharton MBA students can choose Entrepreneurship & Innovation as a specialization within the management department, completing a management core course, an entrepreneurship foundation course and four to seven electives. For students pursuing entrepreneurial careers in specific areas or industries—such as private equity, corporate venturing and consulting—Wharton recommends particular sets of courses to help students build relevant skills. For example, students planning to start their own ventures shortly after graduation might take courses that allow them to explore business plan writing and venture implementation in depth, whereas students interested in consulting might take advantage of courses that train them to capitalize on innovations.
Wharton also lays claim to the first center dedicated to the study of entrepreneurship—the Sol C. Snider Entrepreneurial Research Center. Named by benefactor Ed Snider, owner of the Philadelphia Flyers, in memory of his father, the center is the research heart of Wharton Entrepreneurial Programs (WEP). Its mission is to advance the understanding of entrepreneurship around the globe, and its researchers produce studies drawn from analysis in China, South Africa, the United States and many other economies focused on topics ranging from productivity to large-scale job creation.
WEP also leads a range of entrepreneurial outreach programs and initiatives, starting with the Wharton Business Plan Competition (WBPC), which draws more than 150 teams each year to compete for $125,000 in cash and prizes. Divided into four phases over seven months, the WBPC culminates in the much-anticipated Venture Finals, when eight finalist teams pitch to distinguished judges and an audience of students, entrepreneurs, venture capitalists, industry specialists, attorneys, local business leaders, alumni and media representatives, hoping to win one of the big money prizes. Of course, even those teams that don't walk with cash benefit from constructive feedback each step of the way.
Another program, the Venture Initiation Program (VIP), is Wharton's startup incubator. It provides students with work space, mentoring, seed funding and a community of peers as they develop their ventures. Regardless of whether they are participating in the VIP, students can apply for the Wharton Venture Award (WVA), which provides a $10,000 stipend to rising second-year MBA students, enabling them to forego a traditional summer internship and instead devote themselves full time to developing their ventures. Additional fellowships provide supplementary funding to students who pursue summer internships at startups.
Students can also learn firsthand about the challenges of launching a business by providing free consulting services to local small businesses and entrepreneurs. Interested students apply to work as part of the Wharton Small Business Development Center (WSBDC), a division of the Snider Center. And finally, like HBS and other leading MBA programs, Wharton features an Entrepreneur in Residence (EIR) program. Students can sign up for one-on-one meetings with the entrepreneurs, who come to campus each week to share their experiences. The program has connected more than 170 successful entrepreneurs—including Warby Parker's David Gilboa, Josh Kopelman of First Round Capital and JibJab's Gregg Spiridellis—with more than 1,700 students eager to quiz them or get feedback on their own ventures.
Although outside the auspices of WEP, discussion of entrepreneurship at Wharton would be incomplete without mention of the student-led Wharton Entrepreneurship Club. The club organizes projects with Philadelphia startups and goes on treks to meet entrepreneurs and venture capitalists in Philadelphia, the Bay Area, Boston and New York City; hosts young entrepreneurs discussing their challenges and triumphs and puts on an annual Wharton Entrepreneurship Conference, now in its 20th year, that draws more than 350 students, scholars, entrepreneurs, venture capitalists and business practitioners.
For those of you keeping score, Wharton reports that 36 students or roughly four percent of the Class of 2015 set out to start their own businesses. This is down from 2013's high of 59, representing just over seven percent of the class. Still, it's a significant jump from 2007, when just 13 graduates were startup bound.