Typing "startups are hard" into Google returns approximately 32 million results—ranging from "Startups Are Hard in 100 Different Ways" to "15 Reasons Startups Are !@#$ing Hard." Perhaps that has a little something to do with why more and more savvy entrepreneurs are choosing top business schools as their training ground.
With expanding entrepreneurship curricula, cool campus startup accelerators and ever increasing numbers of business plan competitions—to say nothing of the all-important access to powerful networks of potential investors—the MBA is becoming the preferred path for many would-be founders.
It stands to reason that business schools would become startup hotbeds, especially those that share a few key traits, namely a campus-wide culture of collaboration and innovation; institutional support for programs that encourage technology research and interdisciplinary collaboration, and a location near a technological hub. Combine these ingredients and stir. The result is a self-catalyzing cycle in which campus support for commercializing technology generates local technology startups, which then draw more skilled technologists and managers to the area, who in turn provide the human resources needed to commercialize additional technologies.
Not surprisingly, business schools that offer some of the most robust programs to support entrepreneurship among students and alumni include those like Stanford Graduate School of Business and UC Berkeley's Haas School in Silicon Valley; MIT Sloan School of Management, Harvard Business School and Babson College's F.W. Olin Graduate School of Business in the biotech hub of Boston, and the University of Pennsylvania's Wharton School, NYU Stern and Columbia Business School along the pharmaceutical corridor between Philadelphia and New York City.
But make no mistake. Entrepreneurship is on fire, and even schools outside of these hubs are expanding entrepreneurial offerings in a bid to attract the next Warby Parker or Rent the Runway founders. The University of Michigan's Ross School of Business, for example, got every first-year MBA student into the startup mindset by challenging them all to a business plan competition as part of orientation. Northwestern's Kellogg School launched an accelerator for student startups called the Garage last June in a parking garage on campus. And just yesterday, UCLA Anderson celebrated the launch of its own Anderson Venture Accelerator.
In the pages that follow, we'll offer snapshots of the entrepreneurial programs at a few of the business schools leading the charge to support entrepreneurial students—be it through courses, student clubs, business plan contests, startup incubators, mentoring programs or some combination thereof. And in the weeks ahead, look for our new series, ENTREPRENEURSHIP@, where we'll dig deeper to uncover other ways leading business schools are supporting the founders of tomorrow.
HBS's Rock Center Serves as Home Base for Entrepreneurs
In an article entitled "MBA Programs That Get You Where You Want to Go," the New York Times last spring named HBS the place to go if you want to start your own company, citing its 33 entrepreneurial courses, 35 entrepreneurship professors and an annual New Venture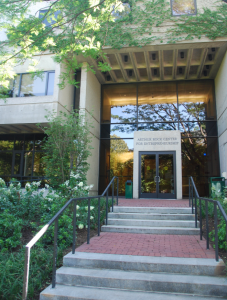 Competition that awards more than $150,000 in cash and in-kind prizes.
And that just scratches the surface of what's on offer. Supported by the Arthur Rock Center for Entrepreneurship, HBS also boasts an Entrepreneurs-in-Residence (EiR) program that brings seasoned entrepreneurs and investors to campus for year-long counseling engagements; the Rock 100, a network of high-impact early stage alumni entrepreneurs willing to share experiences with each other and current students; a Summer Fellows Program that provides financial support to MBA students who choose to pursue entrepreneurial opportunities between their first and second years; and a loan reduction program that awards one-time, need-based loan reductions between $10,000 and $20,000 to students committed to pursuing their own for-profit entrepreneurial ventures upon graduation.
There's also the Rock Accelerator Program, which supports 10 to 20 founding teams each year with up to $8,000 in seed capital to apply the lean start-up methodology toward developing a minimum viable product and testing out their value proposition or business model. Over the course of two 10-week terms, teams consult with student and professional mentors, attend peer exchange workshops and focus on rapid prototyping in a race toward a final Demo Day wrap-up session, where they share what they've learned.
And just this month, HBS added yet another new offering to its entrepreneurial bag of tricks, with the opening of the HBS Startup Studio in New York City. Designed to double as a co-working space for eight to 10 HBS alumni ventures and a meeting place for HBS alumni involved in the NYC startup ecosystem, the Startup Studio opened in a temporary midtown location until its 3,000-square-foot Silicon Alley space is ready later this spring. To apply, companies must have at least one HBS alumni founder, at least $500,000 in seed funding and no more than seven employees.
HBS's efforts to incubate successful ventures seems to be paying off. A February 2015 analysis published by seed-stage venture capital investment firm NextView Ventures identified more than 250 founders from the HBS classes between 2008 and 2014; together they've raised more than $2.5 billion for the 90 companies they've launched between them. Among them are U.S.-based e-commerce trailblazers Rent the Runway and Blue Apron; health insurance disruptor Oscar and an Uber competitor for Southeast Asia called GrabTaxi.
Stanford GSB: The Granddaddy of Business School Entrepreneurship Programs
Entrepreneurs made up 16 percent of the Class of 2015 at Stanford Graduate School of Business, according to the school's most recent employment report. Although down slightly from the 18 percent all-time high in 2013, it still places Stanford squarely in the lead in terms of the percentage of its class pursuing startups out of the gate.  (HBS, by comparison, had saw nine percent of its most recent class start their own business.)
Unlike HBS, which has come on strong in recent years with its support for startups, Stanford GSB has a long history of encouraging entrepreneurial career paths straight from school. Its student-led Entrepreneur Club is one of the oldest of its kind, dating back to the 1970s. It currently boasts more than 300 members and organizes more than 50 events each year for the GSB community.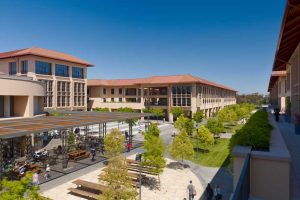 The GSB's Center for Entrepreneurial Studies (CES), meanwhile, has been supporting research pertinent to entrepreneurs since 1996, developing courses and cases, hosting forums, panels and conferences, and facilitating interactions between students, scholars and professionals in the area.
In terms of academics, Stanford GSB students can choose from a staggering 133 entrepreneurship management courses offered across the larger university. In addition to 75 GSB courses, they can also take classes at the School of Engineering, the Institute of Design and the School of Medicine, among others. One of the GSB courses, Startup Garage, is an intensive, hands-on, two-quarter course that calls on students to apply the concepts of design thinking, engineering, finance and business organizational skills as they design and test new business concepts to address real-world needs.
Extracurricular offerings include the CES Entrepreneurial Summer Program (ESP), which supports MBA students who want to pursue summer internships in entrepreneurial environments, and the Stanford Venture Studio, a co-working space for students across disciplines at any stage of entrepreneurship. In addition to space and tools to ideate, prototype and experiment, the Venture Studio offers workshops and training, one-on-one advising by founders, venture capitalists and industry experts and social activities and other collaboration opportunities with fellow students and alumni.