Entrepreneurship Gets a Boost at Michigan's Ross School
The University of Michigan's Ross School of Business was already making a name for itself in the field of entrepreneurship when a generous July 2015 pledge from longstanding benefactors helped it put even more of a stake in the ground. The $60 million gift, from the Zell Family Foundation, will provide endowed support for the Samuel Zell and Robert H. Lurie Institute for Entrepreneurial Studies.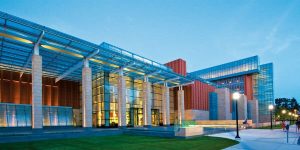 The institute was originally established in 1999 with a $10 million gift from the Zell Family Foundation and the Ann and Robert H. Lurie Family Foundation. This newest injection of cash will support continued development of entrepreneurship programs for students and alumni, including $10 million dedicated to a new fund that will invest in new student business ventures.
Entrepreneurship at Ross has long held a prominent place. The school introduced the nation's first course on it in 1927 and today offers more than 20 entrepreneurship electives students can choose from in their second year. In their first year, all Ross students complete the seven-week Multidis­ciplinary Action Project (MAP), working in four- to six-person teams to carry out a consulting engagement with an outside company. Those who interested in entrepreneurial careers can pursue entrepreneurially-focused MAP projects to gain experience working in a start-up environment, crafting start-up strategy and planning for growth in new industries or geographies.
Ross also established the first student-led venture fund, the Wolverine Venture Fund (WVF), in 1997.  One of the largest university-based venture funds in the nation, the multi-million dollar WVF provides seed funding to early-stage companies under the guidance of MBA students, faculty members and an advisory board of professional venture capitalists. More than two dozen Ross MBA students participate on the WVF team each year, evaluating current portfolio companies' performance, screening business plans for new companies and helping make investment decisions.  The fund also serves as a valuable networking opportunity, since students work closely with successful venture capitalists and entrepreneurs on the advisory board and come into contact with the leaders of WVF portfolio companies.
Students seeking to launch their own ventures can take advantage of the institute's Dare to Dream program, which provides structured support and financial assistance along the way. Students apply to participate in one of the program's three stages—Venture Shaping, Assessment and Integration—and receive grants in each stage to support their work. Those looking to get a taste of an entrepreneurial environment, meanwhile, can take part in the Marcel Gani Internship Program. This program lets Ross MBA students choose either to work as interns for a startup or a venture capital firm or to complete a self-hosted internship launching their own venture.  The program subsidizes the cost of the intern's salary so that more firms can afford to hire an intern and more students can afford to consider an entrepreneurial internship.
Beyond the Zell Lurie Institute's programming, Ross students can also join the Entrepreneur & Venture Club (EVC), one of the largest extracurricular organizations on campus. The club helps members develop their business ideas, find positions with startup and venture capital firms, network with entrepreneurs and venture capitalists, and learn the skills they need to be successful entrepreneurs.  Together, the institute and the EVC host the annual Entrepalooza, a public symposium each September that brings together students, scholars and business leaders in entrepreneurship and venture capital.
Last but not least, students can get hands-on experience developing a business through participation in the Michigan Business Challenge. Teams advance through a series of rounds, pitching their ideas to judges along the way. The format is designed to help students grow better able to persuade an audience of the merits of their business—receiving feedback along the way. Participants share $85,000 in awards and startup capital.
No Guarantees of Startup Success, but Top-Notch Proving Grounds
Startups are inherently risky—and choosing one business school over another offers no guarantee that you'll be able to transform your business idea into the next Uber. After all, successful entrepreneurship takes a unique alchemy of talent, timing, luck and grit. But the business schools here have placed considerable resources and great minds toward figuring out what makes a successful entrepreneur—making their campuses a great place to earn your startup stripes.