As a new crop of applicants set their sights on the 2018-2019 admissions season, many are wisely turning to Clear Admit's ApplyWire, a tool that supports MBA application strategy. As an applicant, by posting the business schools you are considering applying to, along with a little information about your credentials and goals, you can get feedback from our community of top-tier applicants to help inform your final choice of schools.
In this edition of MBA ApplyWire Spotlight, we take a closer look at two recent posts from new candidates for the Class of 2021. We start with a consultant who has a lengthy list of schools:
Clear Admit's resident admissions expert (and newlywed!), Alex Brown, kicked off the feedback:

Subsequently, Clear Admit co-founder Graham Richmond added more:

The original poster then returned:

And Alex wrapped up the thread with further reassurance:

The second MBA hopeful we turn to has some concerns about their quantitative record: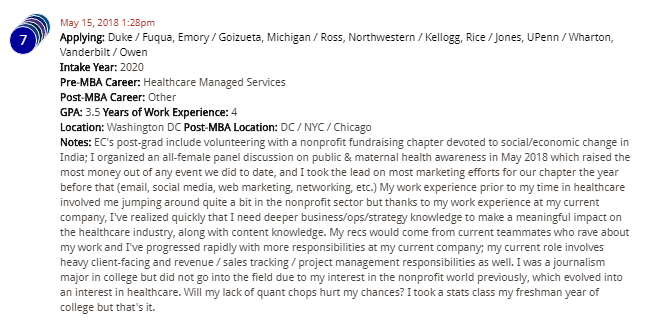 Alex inquired about the GMAT and offered some advice:

Graham also offered encouragement and direction:

Best of luck with your applications!
Are you readying your applications? Do you know which business schools you will be applying to?  Be sure to add your story to Clear Admit's ApplyWire—the posts are completely anonymous and only take a minute to complete.