Each week we collect all the MBA news that's fit to print and provide a quick overview of the latest trending topics from top schools around the world.
Here's your quick MBA News You Need digest for the week of June 7, 2018.
Harvard Hosts First HBS Hacks Event in San Francisco
On May 18th, Harvard Business School (HBS) hosted its first "HBS Hacks" event in San Francisco, bringing together more than 70 HBS alumni to tackle local social challenges. This innovative and interactive event used the elements of a tech hackathon in conjunction with principles of design thinking to brainstorm ideas for transitioning Bay Area workers to a more automated work environment.
"We know that HBS alumni are eager to address social issues and want a meaningful way to engage in solving the challenges facing our communities," said Margaret Busse, associate director of HBS's Social Enterprise Initiative. "Organizing HBS Hacks was an exciting way to generate ideas and create a real dialogue among the various constituencies involved."
To read more about which organizations and companies were involved and what happened at the end of the event, read the press release from the HBS Newsroom.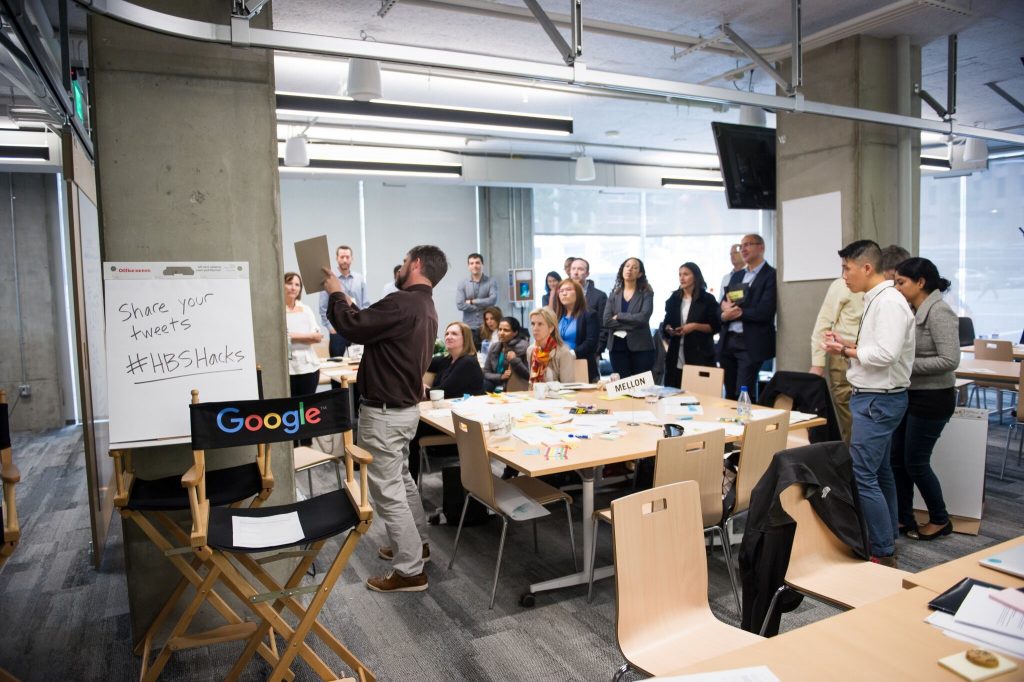 LBS Prof Honored Among Most Influential People in Gender Policy
Apolitical, a global network for public servants and government officials, named London Business School Professor of Organizational Behavior Herminia Ibarra one of the "100 Most Influential People in Gender Policy in 2018" for her work on issues related to gender policy.
Nominees came from government, international organizations, academia, and NGOs such as the United Nations Development Programme. Apolitical reviewed dozens of gender quality experts as well as leading researchers whose work strives to make society more equitable. The goal of the list was to celebrate those people who had the greatest impact on "moving the needle."
Ibarra wrote, "I'm honored to be included in this amazing list. It's hugely important to have social scientists advancing research into the barriers that women face in the professional world." Other people on the list included Malala Yousafzai, activist and founder of the Malala Fund, Canadian Prime Minister Justin Trudeau, , and Amina Mohammed, Deputy Secretary-General of the UN. (LBS News)
UCLA Anderson Awards Record-Setting $100K to Winners of the Knapp Venture Competition
For 36 years, the UCLA Anderson Knapp Venture Competition has assembled the brightest students to present the most cutting-edge new business ideas. It's a celebration of entrepreneurship at the university, as well as a chance to see "what today's MBAs are doing."
In 2018, the competition distributed $100,000—the highest in Knapp's history—to its entrepreneurial winners who were chosen by a panel of judges whose decisions were based on which teams best explained their strategies.
The prize money was divided up between multiple winning teams. The first-place team, which formulated a "biomarker" skin care product, received $15,000. Second- and third-place recipients took home $10,000 and $7,500, respectively. Fourth-place earned $5,000, and fifth-place earned $2,500.
The top two teams were also offered an additional $20,000 in SAFE (simple agreement for future equity) investments. The final $25,000 prize went to the inaugural Muse Innovation Award (the Knapp third-place winner). Read the complete breakdown of this year's Knapp Venture Competition on the UCLA Anderson Blog.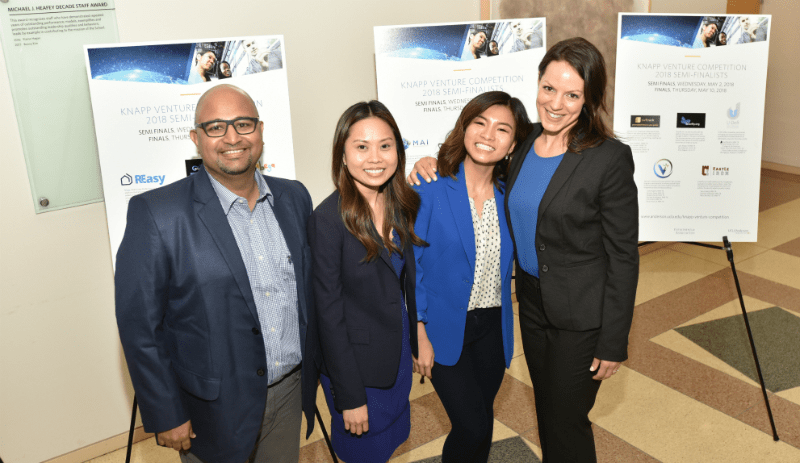 Santander Pledges $850K to Support Two Columbia Business School Entrepreneurship Programs
To support training and development programs for entrepreneurs in Latin America and New York City, Santander Universities has pledged more than $850,000 to Columbia Business School. Specifically, the funding will go toward the Entrepreneurship and Competitiveness in Latin America Program (ECLA) and the Columbia-Harlem Small Business Development Center (CH-SBDC). The support will allow both programs to better help entrepreneurs thrive globally and locally in a variety of ways. Kaaryn Nailor-Simmons, the director of the CH-SBDC, expressed his gratitude for Santander's support:
"We are incredibly grateful to Santander for extending their support of entrepreneurs here at Columbia Business School…this support will allow us to bring a new dynamic to those who participate in the Center's activities."
Nelson Fraiman, the director of the ECLA program, said, "With their latest investment, the ECLA program is poised to deepen and expand the impact we have on leading entrepreneurs in the Latin American market." (Columbia Business School Newsroom)
HBS Names 2018 Blavatnik Fellows in Life Science Entrepreneurship
Since 2013, Harvard Business School's Blavatnik Fellows in Life Science Entrepreneurship program has recognized students who tackle transformative areas within life science. Since the fellowship's inception as part of a $50 million gift to Harvard, the program has helped fellows create 17 companies and collectively raise more than $150 million in funding. The program provides fellows with mentorship opportunities, as well as professional development in startup strategy, design thinking, intellectual property law, and entrepreneurial finance.
The five 2018 Blavatnik Fellows:
Rich Horgan (MBA 2018): Horgan has a deep passion for Duchenne muscular dystrophy (DMD) and operates the nonprofit Terry's Foundation for Muscular Dystrophy, as well as a company Myos, which helps "deliver and fuse healthy cells for muscle regeneration. "
Liz Kwo (MD/MBA 2011, MPH 2016): Kwo is the CEO and co-founder of InfiniteMD, a telemedicine company that connects Chinese patients with U.S. physicians for second opinions.
David Mou (MD/MBA 2014): Mou is the co-founder and medical director of Valera Health, a behavioral health company that helps providers and patients better manage chronic medical and mental health conditions.
Tarran Pierfelice, Ph.D. (MBA 2018): Pierfelice is a scientist who previously worked at Paragon Bioservices. She has expertise in stem cell biology, molecular medicine, and neuroscience.
Jayon Wang (MBA 2018): Wang is the co-founder of X-Core Therapeutics, a company focused on COPD and respiratory failure treatments.
Read the full report and learn more about each fellow in the Harvard Business School press release.