The 2020 rankings of full-time MBA programs are out from U.S. News & World Report, and our admissions experts, Graham Richmond and Alex Brown, have once again been kind enough to help make sense of them.
Before they dig into the rankings, here's a quick rundown of this year's top 10, in order of their 2020 rank (2019 rank in parentheses):
1 University of Pennsylvania's Wharton School (3)
2 Stanford Graduate School of Business (4)
3 Harvard Business School (1, tied)
3 MIT Sloan School of Management (5)
3 University of Chicago Booth School of Business (1, tied)
6 Columbia Business School (9)
6 Northwestern's Kellogg School of Management (6)
6 UC Berkeley Haas School of Business (7, tied)
9  Yale School of Management (11, tied)
10 University of Michigan's Ross School of Business (7, tied)
10 Duke Fuqua School of Business (11, tied)
For the first time, Wharton claims first place on its own in the U.S. News ranking.  Stanford GSB also jumped up a couple of spots while HBS dropped the same number. HBS had maintained the leading position for three years, having tied for number 1 with Chicago Booth last year. The two schools now also tie with MIT / Sloan in the third position. Columbia Business School nearly cracked the top 5, but still made impressive progress with a 3-slot improvement from last year. CBS is joined by Northwestern / Kellogg and UC Berkeley / Haas in the sixth spot.  Yale SOM and Duke / Fuqua cracked the top 10 together as Dartmouth Tuck fell out of it.  This year, Dartmouth / Tuck is tied at 12th with NYU / Stern and UVA / Darden.  As always, those of us here at Clear Admit encourage prospective applicants to use rankings as just one of many resources in your research to determine the best business school for you. In that vein and without further ado, listen to rankings insights from our admissions experts: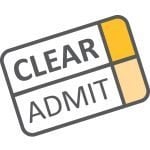 If You Like What You've Been Hearing, Please Subscribe and Rate Us on iTunes!
We love seeing the audience for our podcast series continue to grow! Please, if you have enjoyed what you've heard, won't you take a moment to rank the Clear Admit MBA Admissions Podcast in iTunes? That can really help even more listeners find us. To ensure that you never miss an episode, you could even subscribe.
This episode was hosted by Graham Richmond and Alex Brown, and produced by Contributing Editor Jonathan Pfeffer. Thanks to all of you who've been joining us! One more time: Ranking us in iTunes can help others find us, too, and subscribing means you'll never miss a podcast.
*A quick reminder about the methodology U.S. News uses to compile its annual ranking of best U.S. business schools: Largely unchanged in recent years, its rankings are based on a weighted average of three groups of criteria. Quality assessment, weighted at 0.40, includes a combination of peer and recruiter assessments. Placement success, weighted at 0.35, takes into account mean starting salary and bonus and employment rates for full-time MBA graduates. Lastly, student selectivity, weighted at 0.25, looks at measures like average GMAT/GRE score and GPA and acceptance rate.  
To compile this year's rankings, U.S. News surveyed all 475 MBA programs accredited by the Association to Advance Collegiate Schools of Business International in fall 2018 and early 2019. Of the 367 who responded, 131 provided enough required data to be included in the ranking.