Home
»
DecisionWire
»
DecisionWire Spotlight: U. Chicago Booth, Columbia, MIT Sloan or Northwestern / Kellogg for Consulting
Home » News » Feature Small » DecisionWire Spotlight: U. Chicago Booth, Columbia, MIT Sloan or Northwestern / Kellogg for Consulting
DecisionWire Spotlight: U. Chicago Booth, Columbia, MIT Sloan or Northwestern / Kellogg for Consulting

In this MBA DecisionWire Spotlight, which highlights MBA candidates' choices as shared in Clear Admit's DecisionWire, we take a closer look at a candidate changing functions to consulting and accepted to U. Chicago Booth, Columbia Business School, MIT Sloan and Northwestern / Kellogg.  They also received scholarships to Chicago Booth and CBS.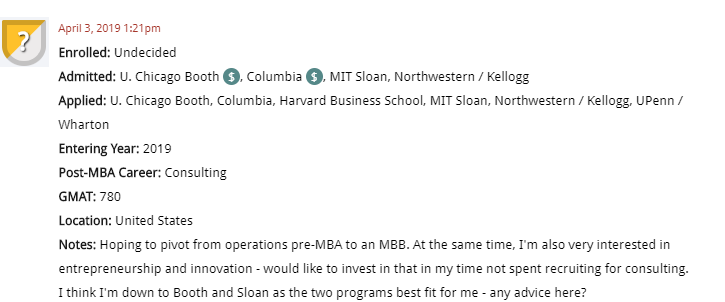 The conversation opened with different opinions:

Another community member considered the scholarships:

Clear Admit's Alex Brown noted they're all great programs, while others chimed in:

The original poster then returned:

The thread wrapped up with more personal commentary:

See more feedback on MBA admissions decisions at:
Do you know where you'll be going? Do you have a tough decision before arriving on campus? Share your story on DecisionWire. It's completely anonymous and only takes a minute to complete.
Posted in: DecisionWire, Feature Small
Schools: Columbia, MIT Sloan, Northwestern / Kellogg, U. Chicago Booth
About the Author

Lauren Wakal
Lauren Wakal is the Editor-in-Chief of Clear Admit, responsible for overseeing content creation for the site. Lauren has been covering the MBA admissions space for more than a decade, from in-depth business school profiles to weekly breaking news and more.
Sign Up For Our Newsletter