Each week, we collect all the MBA news that's fit to print and provide a quick overview of the latest updates from top business schools around the world.
Here's your MBA News You Need digest for the week of June 10, 2019.
HBS Reveals $10M Gift and Fellowship Winners
In 2013, Harvard Business School received a $50 million gift from the Blavatnik Family Foundation that launched the Blavatnik Fellowship.
This year, HBS received an additional $10 million to support the Fellowship through 2029. Blavatnik Fellows spend 12 months working closely with scientists and inventors at Harvard and Harvard-affiliated teaching hospitals to bring their ideas to life.
To date, 25 Blavatnik Fellows in Life Science Entrepreneurship have founded 21 companies and have collectively raised more than $250 million in funding across the life sciences industry, including therapeutics, information technology, diagnostics, consumer health, and more.
Here are the 2019-20 Blavatnik Fellows:
Anu Atluru (MD 2016, MBA 2019) founded Safe-C, a medical technology venture to improve cesarean section delivery.
Steven Dalvin (MD/MBA 2019) co-founded the Makerspace prototyping lab at Harvard Medical School and has co-developed several mobile applications.
Philip Jeng (MBA 2019) is dedicated to learning about early-stage investing within the dynamic health care landscape in China.
Laura Kelley (MBA 2019) is the founder of a cellular diagnostics company that uses deep learning technology.
Rena Xu (MD/MBA 2014) is working on a physician quality assessment tool to help patients make informed choices.
Read more about the Fellows and the gift here.
Tuck Refines 2019-2020 Application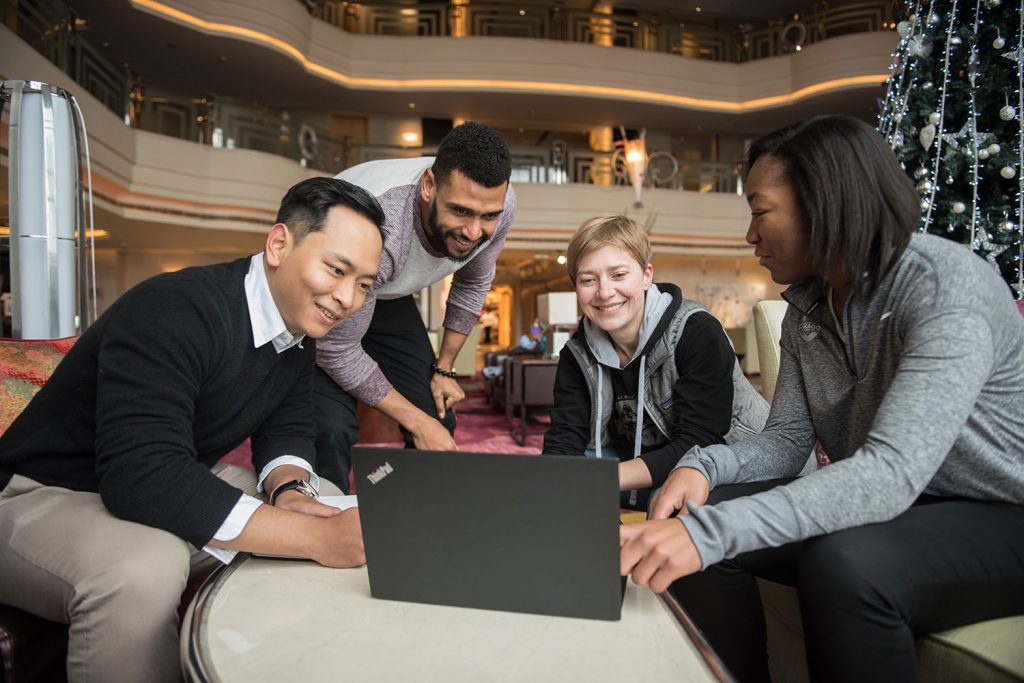 Dartmouth Tuck announced that the round one deadline for its 2019-20 cycle is October 7. Compared to previous years, the deadline for 2019-20 is two weeks later, which provides additional time for applicants to scheduled campus visits and interviews. Interviews with applicants are slated to wrap by November 1 with Round One decisions to follow in mid-December.
Other changes to the Tuck admissions process include shortened written requirements with the elimination of short answer questions, as well as a shift to GMAC's Common Letter of Recommendation Questions.  Commenting on the recommendation changes, executive director of admissions and financial aid Luke Anthony Peña said, "We really enjoy getting to know our applicants and are eager to reduce anxiety in the application process. Our previous questions for references were distinct. Applicants told us that made the process more onerous."
The application will be available in early July.
Read all about the Tuck admissions updates here.
Michigan Ross MBAs Help Small Businesses on a Summer Road Trip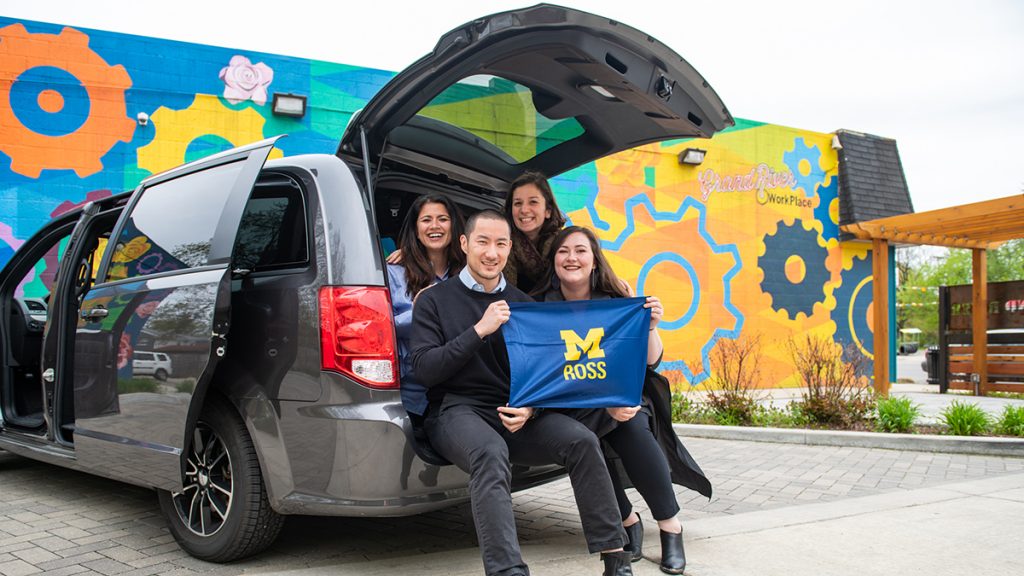 Three teams of four Michigan Ross MBA students will head out on summer road trips to help small businesses across America.
The teams will visit 12 small businesses and entrepreneurs in total as part of Open Road at Ross – Powered by Ford. It's a 4,000-mile action-based social impact adventure that enables students to make a positive impact in communities.
Each week, the teams will consult with a different entrepreneur in a new part of the country. They will spend time with business owners, employees, and community members to develop solution and action plans for businesses based on their most pressing challenges.
Here's an overview of the three participating teams:
Team Lova: Katerina Athanasiou, Minsoo Lyo, Catherine O'Donnell, and Hana Viswanathan
Team MPower: Brooke Burton, Chloe Hull, Gautam Kandlikar, and Fernando Palhares
Team RAIK: Ritesh Kumar, Allie Morbitzer, Kathy Tian, and Ivy Wei
Read more about what each team will bring to the community here.
Kellogg Research Provides Insight into Kickstarting a Successful Career
For recent MBA graduates, Northwestern Kellogg professors offer five crucial steps to building a strong career.
Consider Your Position of Power Before You Interview: According to Professor of Marketing Derek Rucker, you are in a position of low power during the interview. It's essential to recognize your position of power in any situation so you can take stock of your psyche and how others will react to you.
Map Your Own Career Path: Professor of Innovation and Entrepreneurship Carter Cast encourages graduates to take charge of their own development and become an expert in a subject.
Take Advantage of Your First Decade: Professor and former dean Sally Blount says that your post-college years are critical to your career. Getting things right in your 20s can pay off in your 30s and 40s.
Influence Those Above You: When you help your manager perform better, your value increases exponentially, according to William "Chip" Horn, U.S. Army Chief of Staff Senior Fellow at Kellogg.
Remember Your Friends: Finally, a successful career requires you to strike the right work-life balance. Professor Neal Roese reveals how important it is to preserve your personal connections.
Read the full report on the Northwestern Kellogg Insights page.
ShaadiBox Wins UT Austin's Texas Venture Labs Investment Competition
Three students from the UT Austin McCombs MBA Class of 2019 took home the first place prize in the Texas Venture Labs Investment Competition (TVLIC).  ShaadiBox—created by Pallavi Nair, Yukti Gangwani and Jamal Olatunde—helps Indian-Americans find traditional wedding clothing and accessories in the U.S at affordable prices.
In total, 18 startup companies competed in this year's TVLIC in a shark-tank style format. They were asked to pitch their startups to a panel of judges, made up of capital investors and entrepreneurs. They each had 30 minutes to pitch and answer questions. According to Yukti Gangwani, "This competition is a must-do for any student interested in pursuing entrepreneurship."
ShaadiBox received a $10,000 cash prize and an opportunity to join the Jon Brumley Texas Venture Labs' annual trip to close the Nasdaq market in NYC.
Other finalists included: InMoat in second place ($5,000), Lambert Labs in third place ($4,000), ROOG in fourth place ($3,000), and Charitab.ly in fifth place ($2,000).
Learn more here.