Each week we collect MBA news from around the world to give you a quick overview of the latest trending topics from leading business schools.
In your MBA News You Need digest for the week of November 4th, we discuss new elective courses for second-year MBA students at Stanford GSB, the new Wharton Business Daily radio show, record-setting employment at Dartmouth Tuck, military support at UT Austin McCombs, and resume tips from UCLA Anderson.
Stanford GSB Adds Action Learning Program
Stanford GSB announced an addition to its second-year MBA and MSx student curriculum: the Action Learning Program.
These brand new elective courses provide students with hands-on learning experiences. Students who take part in one of these 10-week-long Action Learning courses are divided into small groups that solve real business challenges faced by external organizations.
Students develop the tools they need to become business leaders while building foundations in research.
"With the Action Learning Program, students will gain on-the-ground experience at organizations with the guidance of faculty," explained Professor Brian Lowery, senior associate dean of the Teaching and Learning unit. "The evolution of this program will be an iterative process, with both students and faculty working together to make this a valuable, impactful experience."
The Action Learning Program kicks off as part of the 2019-2020 academic year with three courses:
The Founder's Right Hand: From Inspiration to Launch
Data-Drive Impact
The Corporate Entrepreneur: Startup in Grown-up Enterprise
Learn more by reading the full Stanford GSB press release.
Wharton Launches Radio Show
The Wharton School just launched a new morning radio show on SiriusXM Channel 132.
Produced by the Wharton School, Wharton Business Daily will discuss how emerging trends in business impact the global economy and consumers. Every episode will feature interviews with distinguished business leaders and Wharton professors. They provide insights on everything from market shifts to government policy changes, consumer trends, innovation, and more.
Anchored by veteran radio host Dan Loney, Wharton Business Daily debuted on Monday, November 4, and will air every weekday from 10 am until 12 pm (ET). Upcoming guests include:
Geoff Garrett, Dean of the Wharton School
Steve Case, former AOL CEO
Robert Traynham, Head of External Affairs for Facebook
Marc Randolph, co-founder and founding CEO of Netflix
Jeff Smith, Papa John's Chairman of the Board
Ezekiel Emanuel, Wharton professor and Affordable Care Act co-author
Read the full Wharton press release here.
Dartmouth Tuck Releases Record-Setting Employment Report
Dartmouth Tuck MBA graduates from the Class of 2019 registered record employment numbers.
Within three months of graduation, 98 percent of graduates received job offers, just a point shy of Dartmouth Tuck's all-time record of 99 percent employment.
Dartmouth Tuck's Class of 2019 also set impressive new records when it came to compensation packages.  Median compensation packages reached $170,000 – a $15k increase over last year. These packages consisted of a $140k base salary and $30k bonus, which marked the highest yet.
Top-earning graduates chose careers in a range of industries, including 38 percent in consulting, 24 percent in finance, and 19 percent in technology. Of particular note is the fact that Tuck introduced a full-time career adviser in the Bay Area specifically for prospective technology students.
"Our 2019 employment data certainly illustrates great success for Tuck graduates," says Stephen Pidgeon T'07, executive director of career services. "It's a natural fit for our graduates to be hired into exciting and rewarding positions where a key part of their success will come from working across a business to bring people together."
For the full Class of 2019 Dartmouth Tuck employment report, head over to the Dartmouth Tuck website.
Military Support at UT Austin McCombs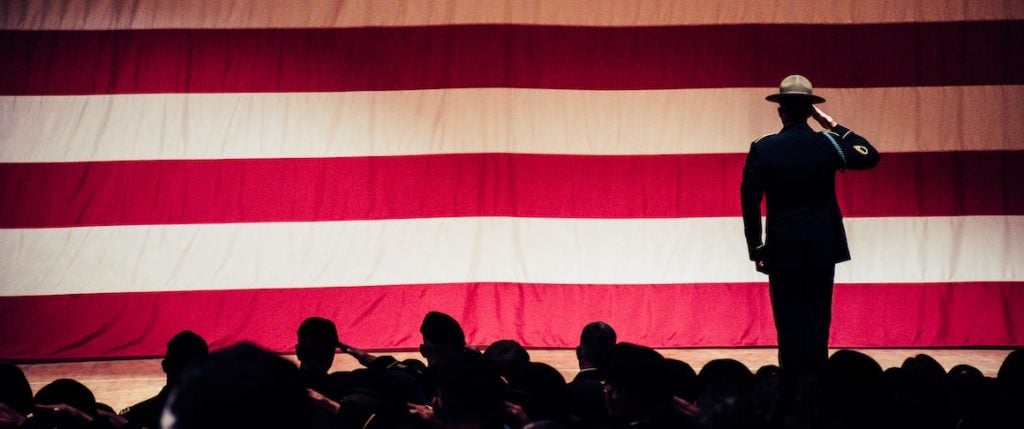 The UT Austin McCombs MBA program is consistently ranked as one of the top programs for veterans. In a post on the McCombs blog written in honor of Veterans Day on 11/11, the school outlined the variety of support they offer students with military backgrounds.
Scholarships & Financial Aid: All McCombs veterans are eligible for merit-based admissions scholarships. They also have access to the UT Austin Office of Student Veteran Services to help navigate federal and state student aid and benefits.
Veterans Services: Student Veterans Services offers academic support, healthcare, wellness services, and more across the UT Austin campus.
Military Student Organizations: There are multiple student organizations for veterans at UT Austin, including the prominent Texan Veterans in Business and Student Veterans Association.
Community Events: Austin is also home to a vibrant veterans community. Students can participate in the Austin Veterans Day Parade, Austin Veteran Arts Fest, Veterans Tech Summit, and more. At school, Veterans can attend one of the Military Community events for MBA candidates.
UCLA Anderson Offers Resume Tips
Don't just copy and paste your resume into the UCLA Anderson MBA application portal. This is just one common mistake many MBA candidates make when they submit their applications, according to UCLA Anderson's associate director of MBA admissions Adrian Aguirre.
Aguirre offered over a dozen tips to keep in mind when putting together your resume:
Make sure you use standard resume business formatting for professionalism, clarity, and structure.
Avoid spelling and grammar errors. Check for redundancy and repetition. Use the right amount of white space.
Make sure your resume is in reverse chronological order.
Highlight your value, potential, expertise, accomplishments, and transferable skills.
Consider the S-T-A-R framework: Situation, Task, Action, and Results.
Include your most recent responsibilities and promotions.
Don't forget to include quantifiable accomplishments: sales volumes, growth rates, percentages of improvement, etc.
List your most meaningful extracurricular activities and leadership.
Be strategic about what you share.
Avoid industry-specific jargon.
Explain any timeline gaps.
Address any job-hopping or very short stints at a job.
Proofread again and again.
Read the full blog from UCLA Anderson here to learn more.