Mike Feng, Darden MBA Class of 2019
Age: 28
Hometown: Chapel Hill, NC
Undergraduate Institution and Major:  Duke University, electrical and mechanical engineering
Pre-MBA Work Experience: Four years in engineering (automotive), one year in venture capital (healthcare)
Why business school? Why now? I've always been a problem solver, and that's why I loved being an engineer. However, through my career, as I moved into bigger and bigger problems, I realized how intertwined business was with engineering, design, and technology, and how each of these disciplines complemented each other.
Sitting at dinner one evening in Brazil with our colleagues, we started off trying to fit their emerging market strategy into our global strategy, but with import tariffs and the supplier base so far out, we ended up instead talking about how we fit our global strategy around their market. We were working together, learning from each other and trying to find a solution that comprehended the big picture. I learned that almost every substantial problem in the real world is multifaceted and rarely is there a single solution. These problems, the ones dealing with new and innovative strategies, uncertainty, and with cascading impacts all over the world, are the types of problems that I want to help solve.
A couple years ago, I had the "aha" moment—that business school would be a great way to position myself to understand the world from a broader perspective. Though at the time I wasn't quite sure what problem (or even field) I wanted to pursue, I knew that I would encounter opportunities along the way and would need to be prepared to take advantage of them. Since then, I've been fortunate to have some great opportunities come my way, which has led to some big ideas and problems I'm passionate about solving. I hope business school not only gives me the foundation I need in business, but also creates an experience that helps me grow personally so that I can make a difference.
Why Darden? What factors figured most prominently into your decision of where to attend? For me, business school is about the entire experience. I want to learn and grow, and I think that growth happens both in and out of the classroom. I looked for a school with a strong and supportive community, an unparalleled academic experience led by amazing faculty, and good quality of life. Darden excels at all those metrics, but especially on the community—the people I've met here are amazing, fun, and open-minded. In the wake of the Charlottesville protests, I saw the strength and caring of the community in full force, and it made me proud to be a part of Darden.
What do you think is your most valuable or differentiating contribution to the Class of 2019? That's a hard question; there are so many amazing people here! I'm an avid cellist, and I haven't met anyone else yet that is crazy enough to take cello lessons while at Darden.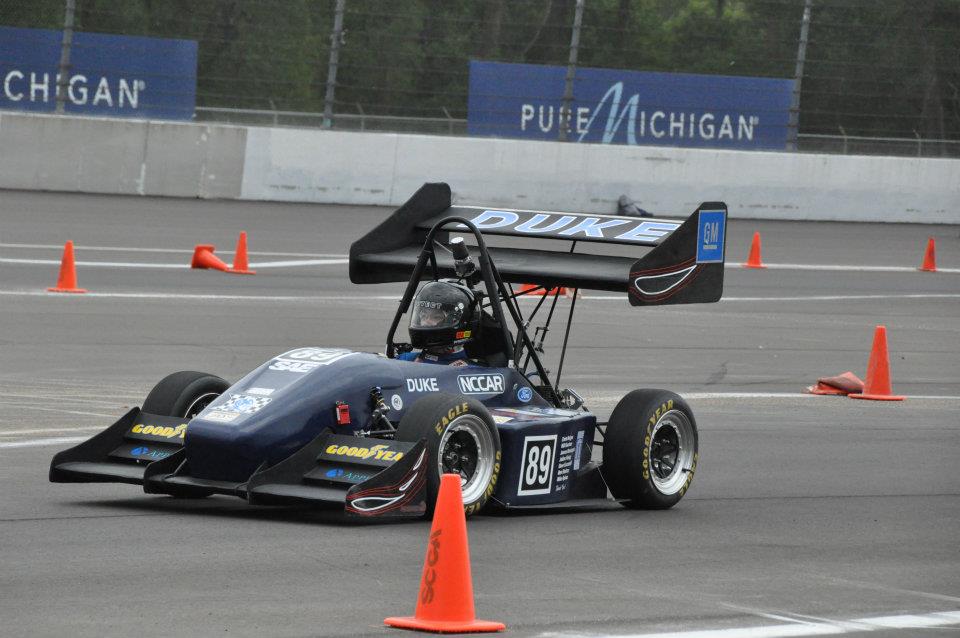 Fun fact that didn't get included on your application? I love Bojangles. Having lived in the northern parts of the country for the past five years, it's a relief to be living near a Bojangles again; admittedly it was one of the first places I went to eat after moving to Charlottesville.
Post-MBA career interests? Right now, I'm interested in pursuing entrepreneurship. I've been working on an idea in the healthcare technology space, and would like to use the time here at Darden to start a new venture.
Advice to current prospective applicants:
  — One thing you would absolutely do again as part of your application process?
Figure out what makes you tick; figure out what makes you get out of bed every morning. If you know what drives and motivates you, then you can really understand why business school may or may not make sense for you—this is your story.
  — One thing you would change or do differently?
People (including me during the application process) pay too much attention to numbers like GMAT or GPA, but in the end it's what you do or aspire to do with your talent that is meaningful.
  — Part you would have skipped if you could—and what helped you get through it?
For me, the hardest part was marketing myself for the admissions committees, but my journey to understand my personal motivations really helped shape my story and form a clear message to admissions committees.
Greatest highlight so far at Darden? Our first day of school was the day of the solar eclipse. We had some time set aside to view the eclipse but were dismayed to discover that it was pouring outside during our viewing window! A few minutes before our window for peak viewing, it stopped raining but we still couldn't see the sun because the clouds were in the way. But we were patient, and the clouds broke exactly as the moon and sun crossed!
One thing about Darden that you didn't expect before arriving? The sheer amount we rely on each other for learning. I read plenty about how we would learn from each other, but experiencing the breakthrough moment when many minds come together to form a higher-level understanding is fascinating. And this happens all the time in classes, learning teams, and hallway discussions.
Thing you are most anxious about in your first year? Finding my correct balance between academic, social, career, and sleep, especially since the right balance will change at different times of the year. But I know that with the support of my classmates and my (awesome) learning team, we'll all figure it out.
Thing you are most excited about in your first year? I'm just excited to find out what happens next! I'm having a blast already, but it's so early in the school year that I know that the best is still yet to come.