Many businesses have begun to question how climate change will affect them in the not-too-distant future, and with good reason: By 2030, global climate change impacts are projected to reach $700 billion annually. This figure has inspired investors to constantly monitor climate risk, and plenty of  businesses have started to take action. Some 42 percent of Fortune 500 companies have set goals for carbon reduction.
"Climate change is having a real impact in many parts of the global economy right now—affecting food production, investment decisions, insurance premiums, supply chains, and operational assets," explains Daniel Vermeer, an associate professor of the practice of energy and environment and executive director of the Center for Energy, Development, and the Global Environment (EDGE) at Duke University. "Over time, we expect that these impacts will increase in scale and frequency," Vermeer adds.
These business challenges, questions, and more were front and center at the most recent ClimateCAP: The Global MBA Summit on Climate, Capital, and Business, an annual event held last month at Duke's Fuqua School of Business.   
Inside the ClimateCAP Summit
ClimateCAP brings together MBA students, business school professors, and leading climate and business experts from around the world to discuss the business implications of climate change. This year's event took place March 23rd and 24th and drew students from Wharton, Harvard, Stanford, LBS, Michigan Ross, Cornell Johnson, UNC Kenan-Flagler, MIT Sloan, NYU Stern, Yale SOM, GA Tech, Northwestern Kellogg, and Georgetown McDonough. Students from any and all business schools are invited to attend.
The year's event included presentations, expert panels, receptions, and Q&As on a wide range of topics. Some of the issues unpacked over the course of the two-day conference included the financial risks, investment opportunities, and leadership challenges that climate change presents as well as climate policy, climate strategy, and more.
Participating MBA students got a deeper understanding of how climate change is shaping many different industries and markets. They also gained insight into the promising innovation and entrepreneurship opportunities emerging to help businesses stay ahead of the competition.
"MBAs have a unique opportunity to deliver valuable solutions to the market that can help societies navigate a turbulent future," said Vermeer. "There is an increasingly compelling business case that leaders across all sectors and geographies will need a robust understanding of the business risks and opportunities of climate change."
ClimateCAP Speakers 
One of the most valuable aspects of the ClimateCAP summit is its guest speakers—business leaders and climate experts who draw insightful connections between climate change and business.
Elizabeth M. Lewis, a Harvard MBA graduate and partner and director of strategy and business development at Terra Alpha Investments, brings 15 years of experience working with businesses and investors on topics of sustainability, natural resources, and technology. During the summit, she participated in a panel entitled "Investors' Perspective: Pricing Climate Risk."
"I spoke about how, at Terra Alpha, we can use information about how environmentally productive companies are to determine which of them are best positioned to thrive in the future," Lewis said. "We are using important information about company carbon emissions, water usage, and waste as inputs to a strong fundamental investment analysis to choose the companies we believe will perform the best in coming years. These companies will be best prepared to deal with changes to energy, agriculture, transport, manufacturing, building, and other economic systems. Disclosure of carbon emissions, water usage, and waste is increasingly becoming mainstream by public companies, so we have good information to work with—and it is improving all the time."
Duke's Vermeer also took part, giving a talk entitled "Hidden Risks, Hidden Opportunities: Framing the Climate Issue."
"Transition risks emerge when companies, customers, and stakeholders shift preferences toward low-carbon alternatives," said Vermeer. "These transitions can also impact an economy as a whole when action is delayed, and then later is compelled to rapidly reset in often disruptive ways. What is most exciting is that this transition will create enormous economic opportunities as societies mitigate and adapt to climate change."
Other speakers included Generate Capital CEO and Co-Founder Scott Jacobs, who delivered a keynote presentation, and Climate One Founder Greg Dalton. Katherine Mach, a senior research scientist at Stanford University, discussed why climate change is important to MBAs. Bill Eacho, a former U.S. ambassador and CEO and founder of the Partnership for Responsible Growth, delivered the "Executive's Briefing on Climate Policy."
In all, more than a dozen speakers offered unique insights for MBA students.
"It is critical for future business leaders to understand the magnitude and nature of climate change risks and opportunities, so I love the mission of this event to further that important education," Lewis said. "Most business schools are not teaching the risks of climate change to our societies and world as an integrated part of the MBA curriculum, when in fact that is exactly what they are. I worry our future leaders will not be prepared for the dangers they encounter until it is too late to act."
The MBA Student Experience
To get a better idea about what it's like to attend the conference, we spoke to two MBA students who took part: Alex Marchyshyn, a dual-degree student at Duke's Fuqua School and Nicholas School of the Environment, and Samantha Klug, a dual-degree student at the University of Pennsylvania's Wharton School and College of Liberal and Professional Studies. Professor Vermeer and Elizabeth Lewis also chimed in.
What did you think of the ClimateCAP summit? Can you sum up your experience?
Alex Marchyshyn: "It was a phenomenal experience. The program offered a great mix of perspectives from different industries, and it drove home the importance of understanding climate change and the impacts it can have on the health of a company. Climate impacts factor into so many business decisions, board discussions, and operational plans, and having the opportunity to understand the financial risks and opportunities was very compelling."
Samantha Klug: "The ClimateCAP conference was a wake-up-call for MBAs to recognize the critical nature of climate change strategy. The call-to-action focused on three things: embedding climate change considerations in the scope of our future roles, infusing climate change education into MBA curriculum, and motivating peers to learn and do more. Throughout the conference, never once did I hear the phrase 'doing well by doing good;' rather, climate change was framed as a critical risk management consideration that any business practitioner needs to understand. This was a helpful angle, as it gave me language that I could use to get through to my peers who aren't engaged in the social and environmental impact space."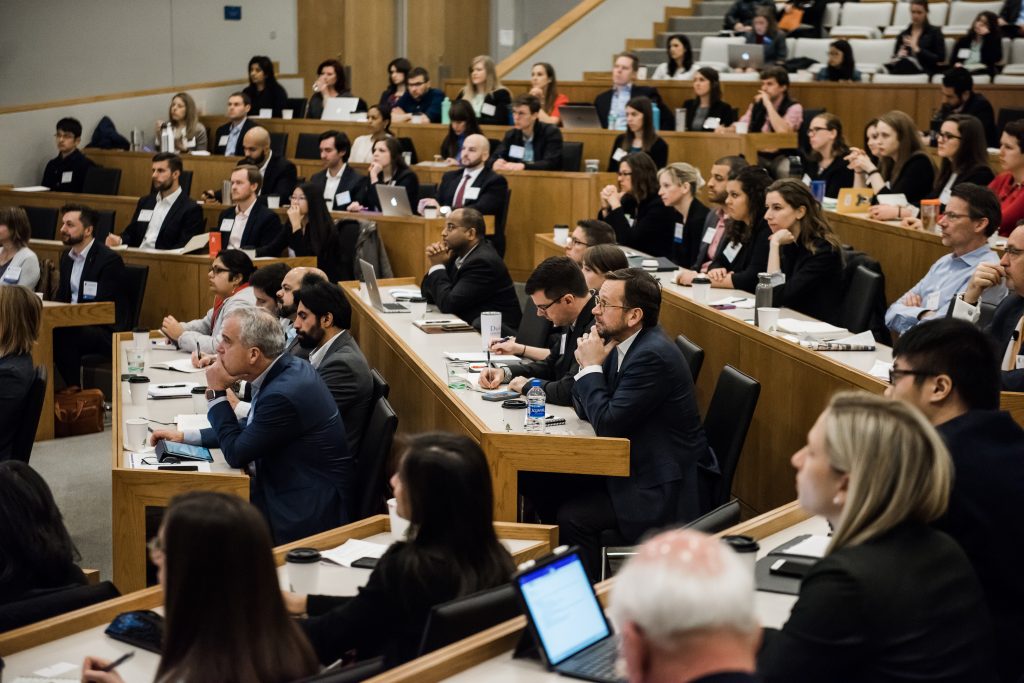 What was your favorite part of the event? 
Alex Marchyshyn: "My favorite part of the event was having the opportunity to ask the speakers questions. For example, I got a chance to ask the chief sustainability officer of the Kellogg Company about how its sustainability efforts ladder up to larger initiatives like Walmart's Project Gigaton. Many major brands are in the supply chains of other companies, and the goals of a mega-retailer like Walmart can spur environmental actions from the brands it stocks. It was fascinating to learn more about how interconnected many of these companies are."
Samantha Klug: "Working with apparel industry practitioners to debrief a challenging case, involving many business-environment and environment-environment tradeoffs, was the most interactive part of the conference. This gave me a chance to understand how experts would approach inter-company discussions and decisions. It also framed just how difficult it is to choose between multiple non-perfect options. It helped me understand how different stakeholders may approach an issue and provided me with increased confidence to advocate for my own perspective in a multi-stakeholder environment."
Daniel Vermeer: "The final reception (after the event) was my favorite part. The senior executives shared that they were excited to have a forum for sharing their insights and advice with the business leaders of the future. The students commented that they felt more energized after 1 1/2 days of discussions about climate change. Despite the sometimes dire predictions, the students felt that they had a better understanding of the issue and a clearer and more compelling idea about how they might engage with climate change in their chosen careers."
Why would you recommend the summit to another MBA student?
Alex Marchyshyn: "Climate change is increasingly important for business, and it's critical that business school students are thinking about environmental impacts and how they can position their company in the future to address and mitigate these issues. This is not an issue that will go away anytime soon. The sooner we train the business leaders of tomorrow to understand the risks and the opportunities, the better off we will be."
Samantha Klug: "The ClimateCAP conference is for all MBA students across industries and functions—especially those with no prior experience or interest in environmental issues. To be an effective decision-maker in a dynamic and disruptive business environment, one cannot afford to ignore the impending impacts of climate change, which have already begun to arrive. Whether you work in tech, finance, real estate, or products, there is a risk and an opportunity to be found."
Daniel Vermeer: "The value for investment was very high with this event. It was a highly efficient way to learn about the complex interplay between climate change and business strategy, build relationships and networks with leaders in the field, and connect with students with similar interests from across the country."
Elizabeth Lewis: "I think it's important for MBA students to be as educated as they can about the critical climate change risks and opportunities they will encounter in their business careers, starting today. In some cases, they will be the ones called upon by senior management to develop strategies to deal with these issues, so they need to have a strong grasp of the issues—issues that are not well suited to be taught in just one elective class, as is often the case. I also think it is critical for students to understand that—because climate change is the critical issues of our time—there are lots of dynamic and exciting career opportunities that will have business and climate as critical components. I hope the summit opened up students' eyes to what some of these possibilities are."