The Stanford Graduate School of Business is no stranger to a top spot, but this is their first time claiming #1 on the Bloomberg Businessweek Best B-School list for U.S. programs. There are more familiar faces in the lead, with Wharton holding steady in second and Harvard Business School placing third.  MIT / Sloan and Chicago Booth round out the top five, and then some greater shake-ups hit the standings, such as Berkeley / Haas jumping five spots and UVA / Darden a whopping eight positions. This can be attributed to Bloomberg Businessweek's change in methodology—which was such a departure from last year's approach, that they did not even include prior rankings for comparison.
Before we dig into our key takeaways, here is a quick glance at this year's top 10 (with the addition of 2017 rankings in parentheses):
1 Stanford Graduate School of Business (5)
2 University of Pennsylvania's Wharton School (2)
3 Harvard Business School (1)
4 MIT Sloan School of Management (3)
5 University of Chicago Booth School of Business (4)
6 UC Berkeley Haas School of Business (11)
7 Columbia Business School (9)
8 Northwestern's Kellogg School of Management (8)
9 University of Virginia Darden School of Business (17)
10 S.C. Cornell University Johnson Graduate School of Management (13)
Once again, Clear Admit has sifted through the data to pull out the revelations in the 2018 Bloomberg Businessweek B-School Ranking that we believe most warrant closer inspection. Enjoy!
7 Takeaways from the Bloomberg Businessweek Best B-Schools Ranking
1) What Mattered Most
Bloomberg Businessweek changed its methodology to let schools help determine the ranking components and survey respondents determine the weighting of those components.  This meant that areas like "compensation" and "networking" won big, representing over 66% of the determination of final ranking.  "Learning" and "entrepreneurship" comprised just 34% of the total.
The compensation category covered the gamut of pay—from upon graduation to further along in alumni's careers, employment security within three months, how many received a bonus, and the scale of the bonuses.  When considering the influence of networking, Bloomberg Businessweek accounted for brand and effectiveness of relationships among students, alumni, career services and recruiters.  Under the umbrella of learning fell means of instruction, value placed on innovation, problem-solving, strategy and real-world relevancy.  Class size and collaboration also played a role in that category.  Though only 10.5 percent of the overall assessment indexes, entrepreneurship held sway over a few programs, with students, alumni and recruiters weighing how well a program prepared them with related skills.
2) Potential Impact of the New Methodology
The changes to the methodology resulted in an entirely different ranking—so different that Bloomberg Businessweek isn't even providing the usual comparison data (to the prior ranking) as they have done in the past.  Some of the changes are so puzzling that they may cause pundits to label the Bloomberg ranking as less traditional and more oddball.
3) Stanford GSB—Top of the Pops
Stanford surged from #5 to capture the top spot—a spot the school has never before captured in the history of the Businessweek ranking.  This is due to the school's strengths in compensation, networking, and entrepreneurship (all areas where the school scored a perfect score of 100).  The school's location in Silicon Valley cannot be ignored in this instance.
4) Berkeley Haas Sails up the Chart
Berkeley's Haas School of Business landed at #6 on the list (moving up from #11 last year), besting the likes of Northwestern / Kellogg, Columbia Business School, and Dartmouth / Tuck (each of which ranked higher than Haas last year).  This ranking suggests that the Bay Area school is increasingly pushing its way into the M7 and is benefiting from geography, just as Stanford has.
5) Tepper and Marshall Make Some Noise
Schools like CMU / Tepper (#12) and USC / Marshall (#13) should be very pleased with their showing.  Tepper moved up a couple of slots from #14 last year, and USC / Marshall rocketed from #30 to #13, passing Los Angeles rival UCLA—which we suspect no one saw coming.
6) There's Only So Much Room at the Top
On the downside, Dartmouth / Tuck slipped from #7 last year to #19 this year and Duke / Fuqua fell from #6 to #15.  This is especially puzzling for Tuck, an Ivy League MBA with a close-knit community and incredibly supportive alumni community.  However, it may have to do with the school's low marks in both "learning" and "entrepreneurship."  It's also worth noting that Tuck has traditionally been viewed as being right on the cusp of the M7—and yet this ranking has relegated the school to the back end of the top-20.
7) Location! Location! Location!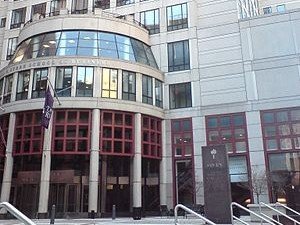 As hinted above, one thing that may be happening here is geography.  Schools like Berkeley / Haas, NYU / Stern, and Washington / Foster seem to be benefiting from their locations in booming job markets (Bay Area, NYC, Seattle/Amazon-Microsoft country) as well as the millennial propensity to favor urban settings with large professional networks.
As our readers know, we have long advised that applicants take any and all rankings with a grain of salt.  It is our conviction that straight rankings (ordinal) aren't always terribly helpful either, and we favor a more tiered approach. Those of us here at Clear Admit encourage prospective applicants to use rankings as just one of many resources in your research to determine the best business school for you.
Bloomberg Businessweek promises a global ranking on December 11, so stay tuned for more!