Each week we collect all the MBA news that's fit to print and provide a quick overview of the latest updates from top business schools around the world.
This week, we cover UCLA Anderson's advice to MBA re-applicants, the MBA profile for the Texas McCombs Class of 2021, the EUROUT LGBTQ+ conference by London Business School, INSEAD's new Chair of Environmental Responsibility, and UVA Darden's $400M fundraising campaign.
Here's your MBA News You Need digest for the week of October 14, 2019.
UCLA Anderson Offers MBA Re-applicants Advice
Not everyone gets into their dream MBA program the first time around. The good news is that getting admitted isn't a one-shot deal—you may have just missed the cutoff because there were too many qualified candidates and you needed another year to strengthen your resume.
Whatever the case, UCLA Anderson highly encourages candidates to re-apply to your top choice if you aren't accepted the first time around. The key to being a successful re-applicant is how you re-evaluate your application to strengthen your candidacy.
GMAT/GRE Scores: If your GMAT/GRE scores are below the class profile averages, it might be a good idea to retake your exam for a better score.
Academics: You cannot change your undergraduate GPA. However, if you feel like you had a subpar performance, it's a good idea to take some additional courses, particularly in quantitative subjects.
Experience: While you're waiting to send in your new application, it's the perfect opportunity to build on your professional and extracurricular experiences. Look for new leadership opportunities, acquire new skill sets, volunteer, take on new projects, etc.
Reflect: Finally, take some time to think about how you presented yourself in your last application. Did you clearly articulate who you are and what you want in your essays? Have your goals changed? Make sure your application reflects your desire to attend UCLA Anderson.
The good news is that re-applicants enjoy a streamlined application process. Learn more on the UCLA Anderson MBA blog.
Texas McCombs MBA Class of 2021 Profile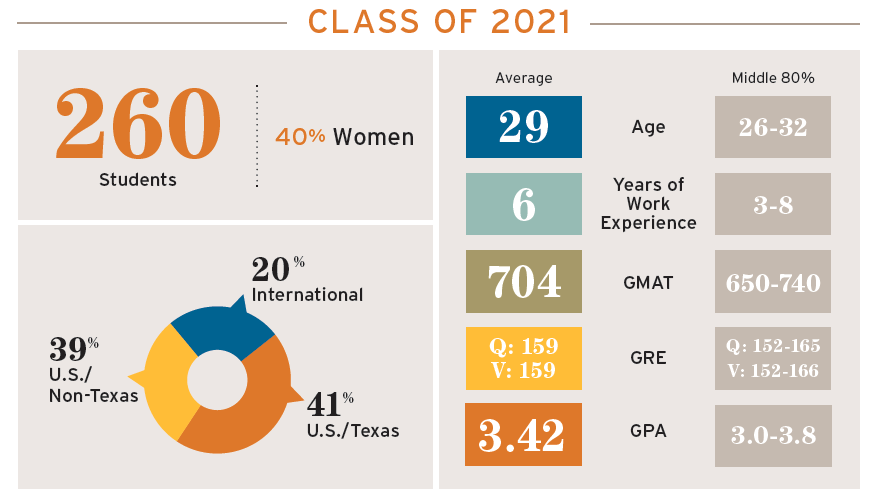 Texas McCombs just released its Class of 2021 MBA profile. Out of 1,900 applicants, the admissions team narrowed down the admitted class to only 260 students—40 percent of whom are women (the highest percentage of females in the Full-Time MBA program ever).
With regard to the diversity of the class, 20 percent are international students from all over the world, including Brazil, Vietnam, South Africa, Japan, and Sri Lanka.
The average age of students is 29 years old with six years of work experience in a variety of sectors, including finance/banking (14 percent), energy (11 percent), government (11 percent), technology (10 percent), consulting (10 percent). The remaining 44 percent of the class came from other industries, such as manufacturing, retail, venture capital, and real estate. They were admitted with an average GPA of 3.42, GMAT of 704, and GRE or 159 on both the quantitative and verbal portion.
To learn more about the incoming class, visit the Texas McCombs blog today.
LBS'S Flagship LGBTQ+ Conference: EUROUT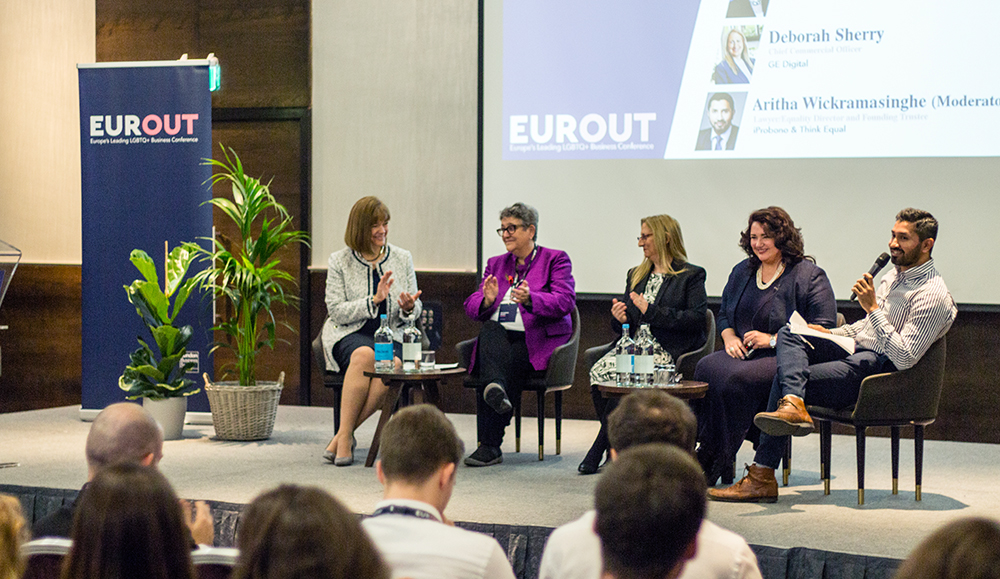 Developed by London Business School's Out in Business (OiB) club, EUROUT is Europe's leading LGBTQ+ conference for graduate students and alumni. Each year, EUROUT brings together over 400 MBAs, PhDs, and other delegates from more than 20 schools and 50 companies to discuss diversity and inclusion.
The conference is regarded as an invaluable opportunity for LGBTQ+ professionals to network, explore their career options, and learn from top companies and leaders around the world.
The theme of this year's EUROUT, which takes place in London on November 1-2, is "Maintaining Momentum." The event will focus on celebrating achievements within the LGBTQ+ community, reviewing how the community can keep pushing forward, highlighting inclusion, and unpacking the continued fight for equality.
Right now, one ticket is free and you can get five more for 20 percent off by filling out a form on the LBS admissions blog.
INSEAD Creates Chair in Environmental Sustainability
Thanks to a generous donation from James Pitt INSEAD '94 and his wife Bianca, INSEAD has established its first Chair in environmental sustainability. The Bianca and James Pitt Chair in Environmental Sustainability demonstrates INSEAD's commitment to addressing critical environmental issues in both business and society, including support of sustainable operations management, producer responsibility, and the circular economy. Professor Atalay Atasu will serve as the first Chair holder.
"The Bianca and James Pitt Chair in Environmental Sustainability underpins INSEAD's vision of business as a force for good. Many of our twenty-first-century challenges cannot be addressed by governments or NGOs alone," said Dean Illian Mihov.  "Business leaders must rise to the challenge—integrating sustainability, responsibility, and impact directly into the decisions they make. Concrete research, geared towards solutions, holds a great potential to accelerate progress towards a peaceful, prosperous, and sustainable future."
To learn more, visit the INSEAD newsroom.
UVA Darden Announces $400M Campaign
On October 12, the University of Virginia Darden School of Business launched its Powered by Purpose campaign, which intends to raise $400 million by June 2025.
The campaign has quietly raised more than $236 million since June 2013. With this public launch, the school hopes to gain new fundraising support as part of UVA's $5 billion Honor the Future campaign.
The Powered by Purpose campaign formally launched on the Darden campus with hundreds of students, faculty, staff, and alumni in attendance. During this time, the school inducted five new members into its Principal Donors Society for lifetime giving, and announced the four priorities for the Powered by Purpose campaign.
The campaign will support:
Faculty, curriculum innovation, and thought leadership
Financial aid, scholarships, and student experience
Technology and innovation and "Grounds Master Plan."
The Darden Annual Fund
Early-stage funding has already impacted Darden with the opening of the Washington, D.C. campus, the creation of the Batten Foundation Darden Worldwide Scholarship program, and 22 new endowed professorships and 66 new scholarship endowments.