Weekly Roundup for Clear Admit's MBA Podcast
In this week's MBA Admissions podcast we began by discussing the upcoming Round 1 deadlines for this new season; for this week Stanford, Yale SOM, INSEAD, Columbia, Northwestern / Kellogg, Berkeley / Haas and Michigan / Ross all have their Round 1 application deadlines.
Graham highlighted our next Essay Insights series, which begins on Wednesday of this week, and continues the following two Wednesdays; these events are very popular and bring together the leading MBA programs to talk about their admissions essay topics. Signups are here: https://bit.ly/cafallessays
Graham then mentioned two pieces of correspondence that we received last week, which led to discussions on the merits of One Year MBA programs that have a special industry focus, and the value of the full-time MBA program for a candidate who is also considering part-time options.
We then discussed the recent announcement of the new MBA Admissions Director at Harvard Business School. Rupal Gadhia, an HBS alumna, will be joining the admissions team in October. Following this, we discussed a new initiative from INSEAD, that highlights their inclusion of sustainability content within the core curriculum of their MBA program.
Graham then highlighted three Adcom Q&As, where we interview admissions directors at Texas / McCombs, Vanderbilt / Owen and UNC / Kenan Flagler. Graham also noted three new admissions tips posted to Clear Admit last week, each highlighting different aspects of the admissions essay writing process.
Our final discussion focused on the recently published profile of UCLA / Anderson for the Class of 2025. While the quality of the class remains strong, we did note a decline, over the last two seasons, of the class size. We speculate if this trend will be seen with other leading MBA programs as class profiles continue to be published.
As usual, for the candidate profile review portion of the show, Alex selected three ApplyWire entries.
Three MBA Admissions Candidates Reviewed.
This week's first MBA admissions candidate is a military candidate who appears to have very good service experience. Our key concern regarding their profile is their GMAT score, which will be below average for the top programs. Because this appears to be the weakest part of the application, we are really encouraging them to retake the test. They can also expand their list of target programs, to include 1-2 more from the M7 group, and a few programs from the top 16 tier.
This week's second MBA candidate is also from the military, and also appears to have a strong professional record. But like our first candidate, their achilles heel appears to be their test score, this time a GRE of 310. While they have taken this text three times already, each time they have improved. We are hoping for one more re-test, and pushing the applications to Round 2, rather than applying in Round 1 with the current score.
The final MBA candidate is considering doing a test waiver, based on their undergraduate record, and their analytical work experience. They are also concerned that they need to apply in Round 1, before their life gets more hectic with a forthcoming family addition (new baby). That all said, we really encourage them to apply in Round 2 (they can get all their application materials prepared early) and find time to prepare and take the test. This should open up more access for them to leading programs.
Military service, low GMAT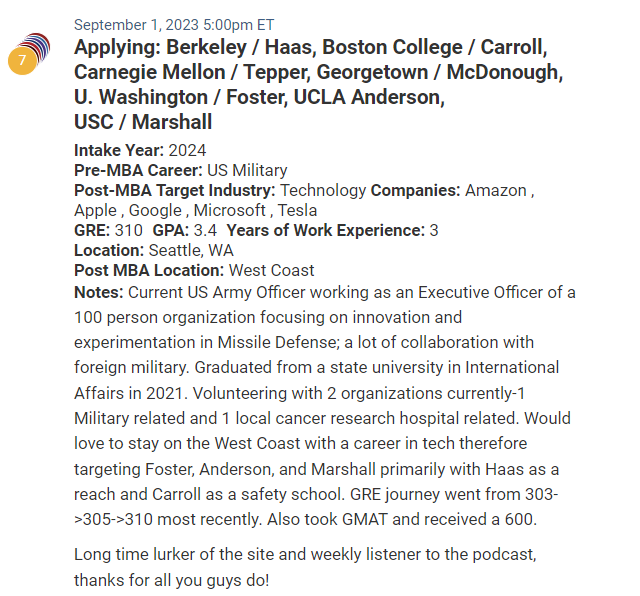 Military service, low GRE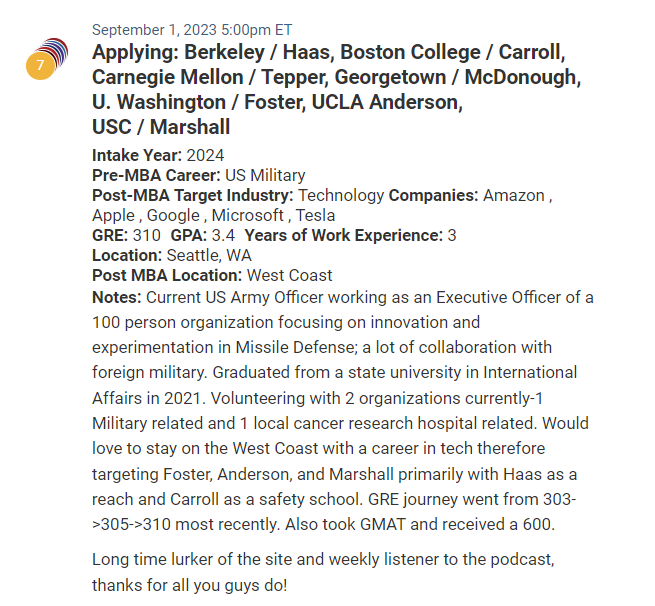 Is a test waiver the right option?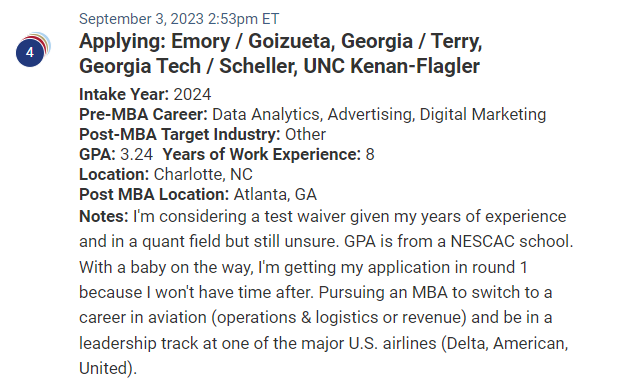 Happy listening!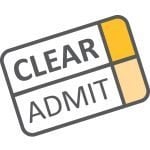 Be sure to post to MBA ApplyWire, MBA DecisionWire or MBA RankingsWire if you'd like Graham and Alex to offer admissions advice.
If You Like What You've Been Hearing, Please Subscribe and Rate Us!
It's been wonderful seeing the audience for our podcast series continue to grow! Please, if you have enjoyed what you've heard, could you rate and review the Clear Admit MBA Admissions Podcast wherever you listen? This is the best way to help more listeners find us. Also, to ensure that you never miss an episode, please subscribe to the podcast.
This episode was hosted by Graham Richmond and Alex Brown, and produced by Dennis Crowley. Thanks to all of you who've been joining us!