In this MBA DecisionWire Spotlight, which highlights MBA candidates' choices as shared in Clear Admit's DecisionWire, we take a closer look at a couple of candidates either on the waitlist or waiting to hear from other schools before making a decision.
If you're on the waitlist in Round 1, check out our latest podcast about what you can do to improve your odds. 
The first candidate we highlight was accepted to UNC Kenan-Flagler and on the waitlist at Duke / Fuqua.  They are also getting ready to interview at Georgetown / McDonough, and waiting to hear from NYU Stern.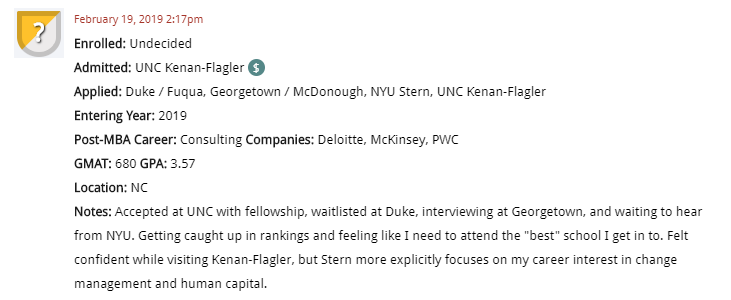 Clear Admit's resident admissions expert, Alex Brown, opened the conversation:

Another community member then added their thoughts:

While another empathized:

Another waitlisted candidate late out their current debate in DecisionWire: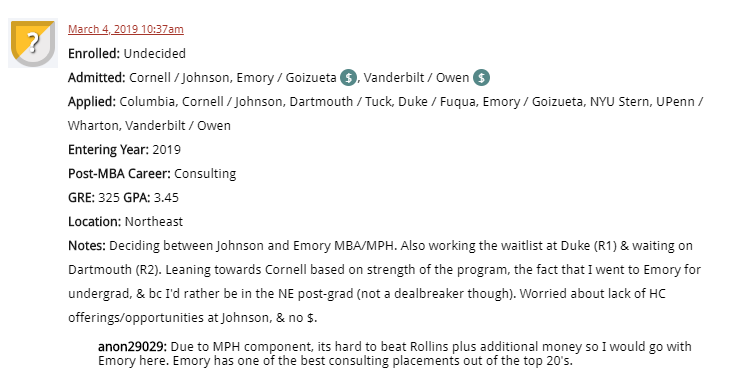 This candidate, accepted to Indiana / Kelley with a scholarship and waiting to hear from Duke / Fuqua, sought advice on their vision of what could happen:

A community member replied with the following:

Best of luck with additional admits and your decisions!
See more feedback on MBA admissions decisions at:
Do you know where you'll be going? Do you have a tough decision before arriving on campus? Share your story on DecisionWire. It's completely anonymous and only takes a minute to complete.