Post-MBA careers in tech are a very popular option for MBA graduates, whether they choose to join a large company like Google, Amazon, or Microsoft, or jump into a role with a small venture-backed tech start-up. In fact, tech, along with consulting and financial services, are three of the most popular industries for Class of 2021 MBA graduates.
In this installment of Top MBA Program Career Placement Outcomes, we take a closer look at technology industry placements across leading U.S. business schools.
Class of 2021 Post-MBA Career Placement in the Technology Industry
Here is a chart showing the percent total of Class of 2021 MBA graduates who accepted* jobs in the technology industry as a percent of the total Class of 2021 graduates who accepted jobs. This data is from the Class of 2021 employment reports from 23 full time U.S.-based MBA programs.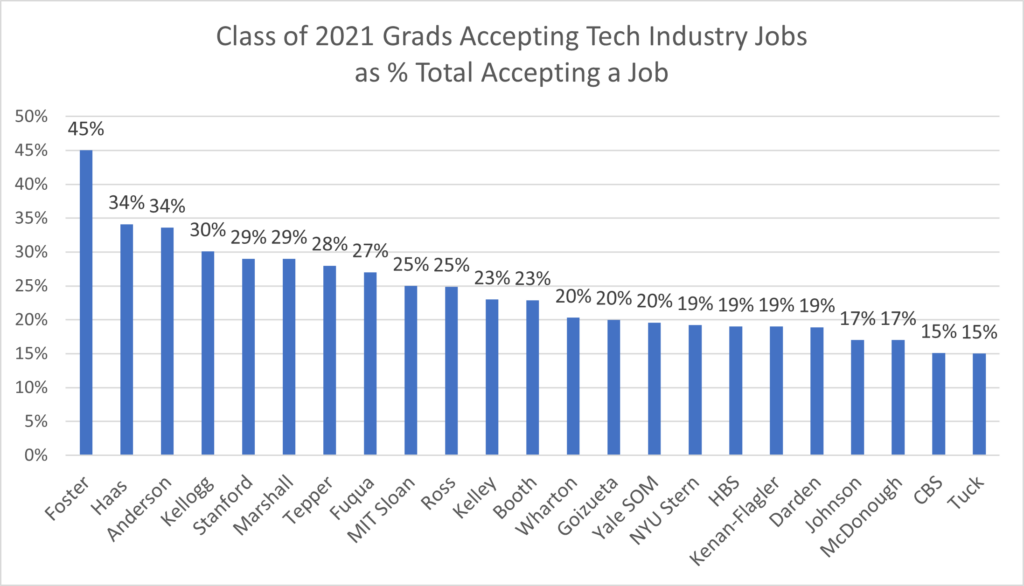 Jobs in the technology industry are clearly quite popular with Class of 2021 MBA graduates. Foster (45%) sends the highest percentage into technology industry jobs, followed by Haas and Anderson at 34% each. Kellogg (30%) is next, followed by Stanford GSB (29%), Marshall (29%), Tepper (28%) and Fuqua (27%). MIT Sloan and Ross are next at 25% each. Of the six schools with the highest percentage of tech industry jobs, five are located on the West Coast. This should come as no surprise given the concentration of big tech firms and venture-backed starts-ups on the West Coast. It is also interesting to see that Kellogg, Tepper and Fuqua have a higher percentage of Class of 2021 grads going into tech industry jobs than MIT Sloan does. The business schools sending fewer than 20% of Class of 2021 grads into tech industry jobs are all East Coast business schools such as Stern (19%), HBS (19%), Kenan Flagler (19%), Darden (19%), Johnson (17%), McDonough (17%), CBS (15%) and Tuck (15%).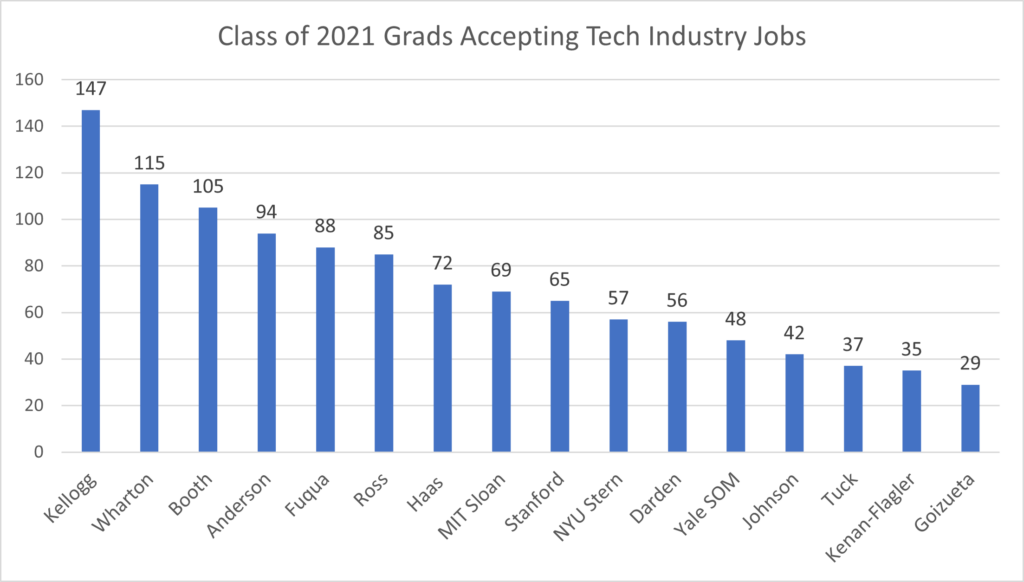 Since the MBA programs vary by size, it is helpful to view the total number of MBA graduates that go into technology industry jobs from each MBA program. Above we have included the Class of 2021 tech industry jobs accepted for 16 MBA programs. For example, in the chart above, the larger MBA programs such as Kellogg (147), Wharton (115) and Booth (105) send over 100 MBA graduates each to jobs in technology firms.
Anderson (94), Fuqua (88) and Ross (85) also send an impressive number of graduates into tech industry jobs given their class size. Conversely, Tuck (37), UNC Kenan-Flagler (35) and Goizueta (29) send the fewest graduates into technology industry jobs.
Big Tech Analysis (Amazon, Google, Microsoft, Apple, Facebook)
Among MBA students and MBA applicants seeking a tech industry career post-MBA, there is a lot of interest in working at leading 'Big Tech' firms such as Amazon, Google, Microsoft, Apple, and Facebook. Thus, prospective students often follow the Big Tech job placement track records for the different MBA programs. Unfortunately, not all MBA programs provide data on job placement at specific tech companies in their published MBA employment reports. Here is a summary of the tech industry job data that is published:
Summary of Class of 2021 MBA Grads who accepted jobs at Big Tech Firms

MBA Program
Amazon
Google
Microsoft
Apple
Facebook
Big Tech Total
Kellogg
28
20
9
7
1
65
Fuqua
33
5
12
4
3
57
Booth
34
8
2
2
2
48
Ross
25
7
8
1
2
43
MIT Sloan
12
9
2
2
2
27
NYU
15
3
1
1
1
21
Haas
2 plus
2 plus
2 plus
0-2
2 plus
Wharton
2 plus
2 plus
3 plus
2 plus
2 plus
Anderson
2 plus
2 plus
2 plus
2 plus
Harvard
yes
yes
yes
yes
yes
CBS
yes
yes
yes
yes
yes
Tuck
yes
yes
yes
yes
yes
Yale SOM
yes
yes
yes
yes
yes
Darden
yes
yes
Johnson
Yes
Stanford
No company specific job placement data reported
Of the 16 MBA programs reviewed, only six publish the number of Class of 2021 graduates who have accepted a job at specific Big Tech firms. Three other MBA programs (Haas, Anderson and Wharton) each state that most of the Big Tech firms hired at least two Class of 2021 graduates. Another four MBA programs (CBS, HBS, Tuck and Yale SOM) state that these firms each hired at least one Class of 2021 graduate while Darden and Johnson seem to have more limited job placement in Big Tech firms. Finally, Stanford did not include information about employment by firm.
While we don't have a complete set of published data, we have enough to note some trends. Let's look at the Class of 2021 job placement trends at Big Tech firms separately for the six business schools that share this data.
Note that these large tech firms hire MBAs to fill a variety of positions including product management and logistics roles as well as more traditional corporate roles in strategy, finance or marketing.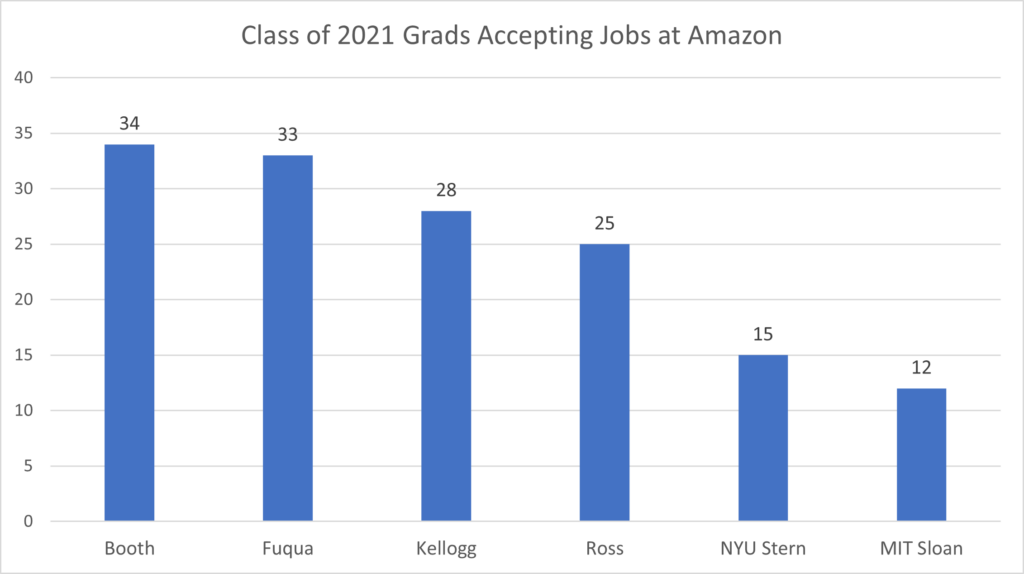 Of these six MBA programs, Amazon hires the most Class of 2021 graduates from Booth (34), Fuqua (33), Kellogg (28), and Ross (25). In fact, Amazon is not only the biggest tech employer at these MBA programs, it is also one of the biggest employers of Class of 2021 graduates at these business schools.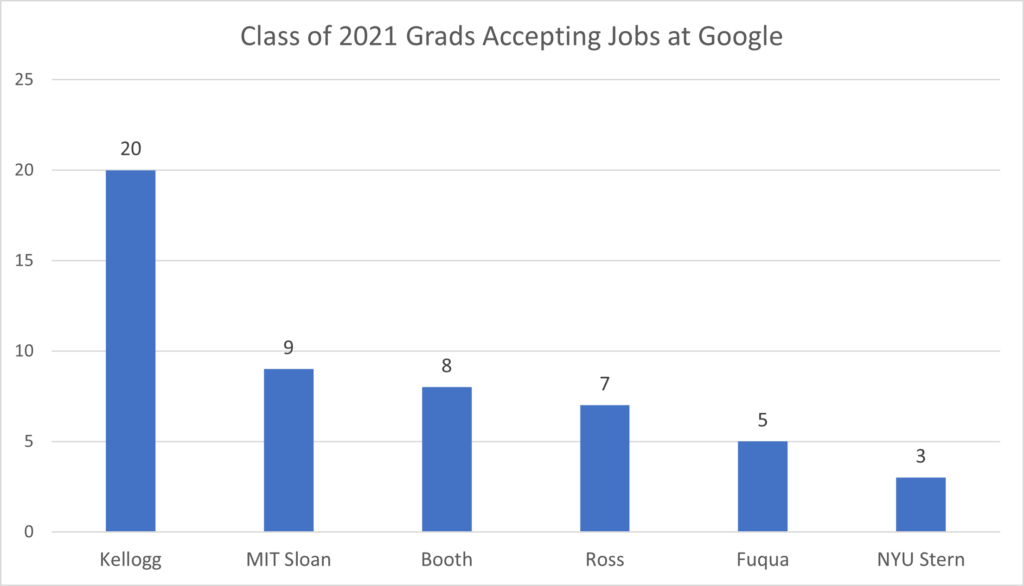 Of these six MBA programs, Google hires the most from Kellogg (20), which is more than double the number that Google hires from each of MIT Sloan (9), Booth (8), and Ross (7).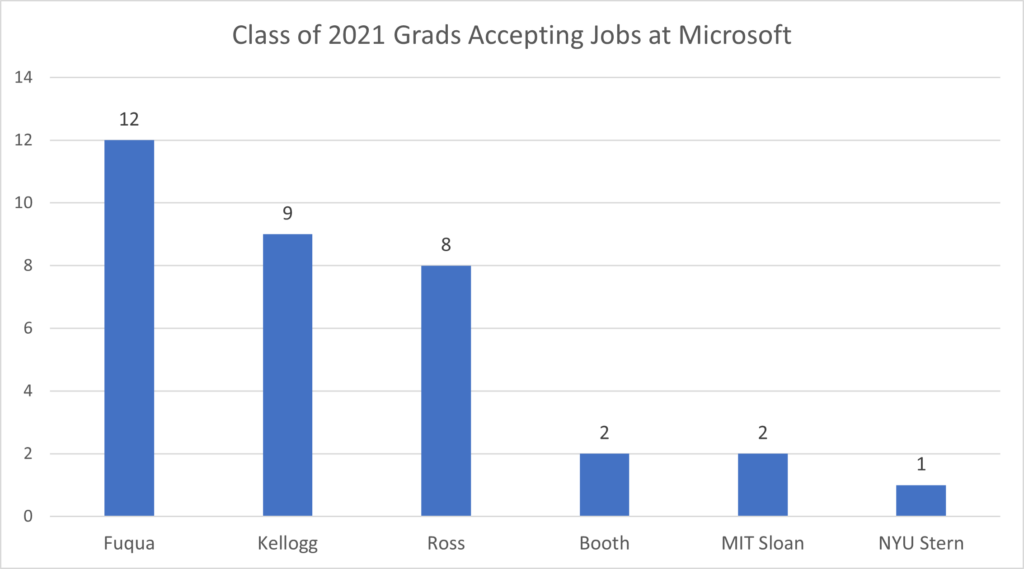 Of these six MBA programs, Fuqua (12), Kellogg (9) and Ross (8) sent the most Class of 2021 graduates to work at Microsoft. Note that these job numbers include jobs accepted at LinkedIn, a Microsoft subsidiary.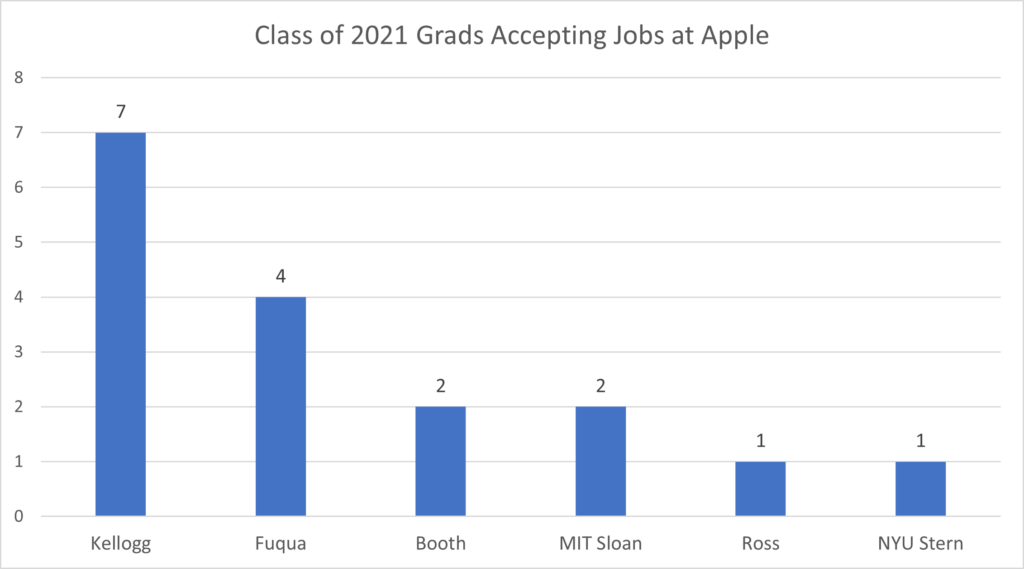 Of these six MBA programs, Kellogg (7) sent the most Class of 2021 graduates to work at Apple, followed by Fuqua (4). Note that Apple CEO Tim Cook is a graduate of Fuqua, which might help explain Fuqua's relatively strong job placement at Apple.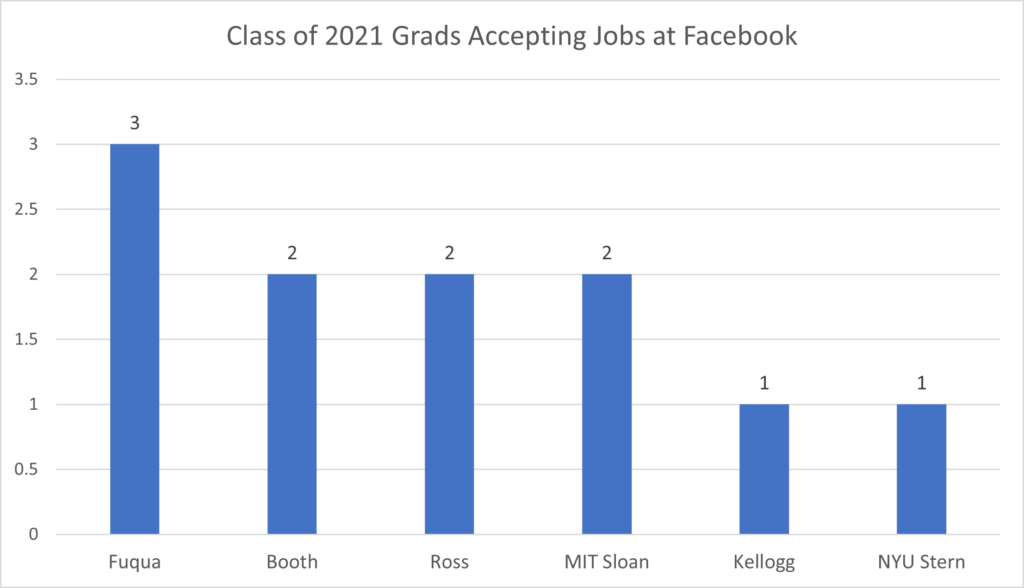 Facebook hired fewer graduates from these six MBA programs. Facebook hired three from Fuqua and one to two hires each from the other five MBA programs.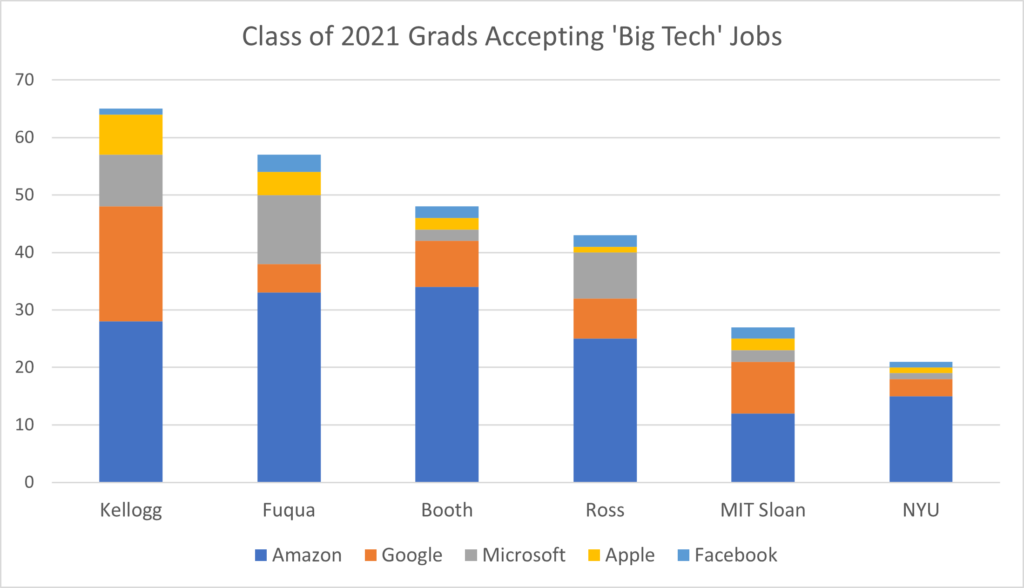 In summary, of the six MBA programs highlighted, Kellogg has a strong track record with a total of 65 'Big Tech' job placements, followed by 57 for Fuqua, 48 for Booth, and 43 for Ross.
Now, Kellogg and Booth have larger class size than these other four MBA programs. To account for the differences in class size across the six MBA programs, we will now review the Big Tech jobs data by school as a percent of the total tech industry jobs accepted.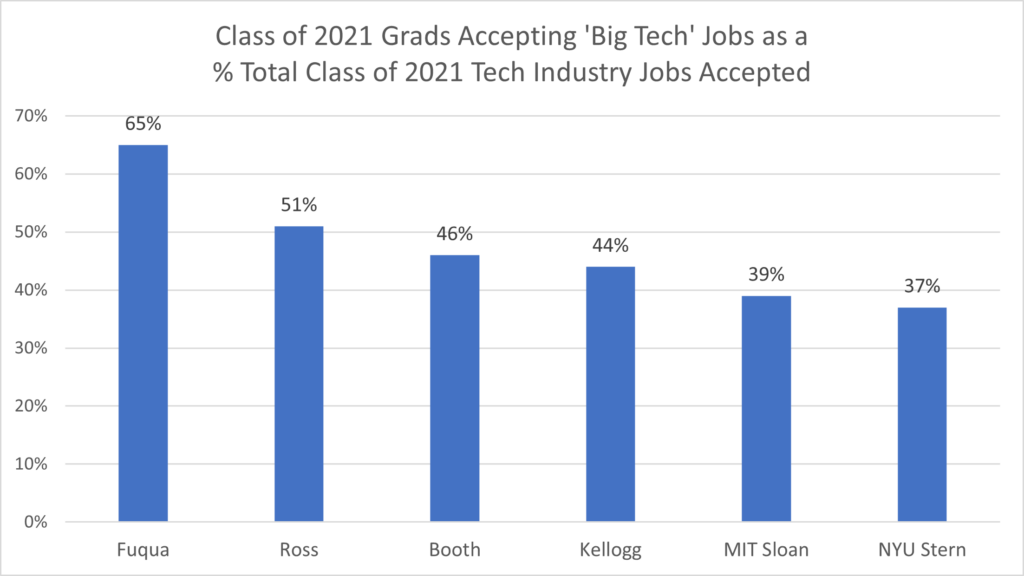 Of the Class of 2021 Fuqua graduates who accepted technology industry jobs, 65% accepted jobs at one of the five Big Tech firms (Amazon, Google, Microsoft, Apple and Facebook) vs. the comparable figures of 51% for Ross, 46% for Booth and 44% for Kellogg.
"In summary, Fuqua stands out for their high percentage (65%) of tech industry placements with Big Tech firms, and Kellogg stands out for sending a large number of graduates into the technology industry" stated Graham Richmond, Co-Founder of Clear Admit.  "Furthermore, U. Washington Foster is notable for the sheer percentage of their graduating class (45%) finding jobs in the technology sector, likely influenced by the school's location in the hometown of major players such as Microsoft and Amazon."
Note: Offering these kinds of comparisons would clearly be easier if more MBA programs reported hiring totals with specific employers in their employment reports. Thus, in the spirit of supporting transparency, we encourage MBA programs to be more willing to share this level of information in their future employment reports.
*In this article, we are using data from the Class of 2021 MBA Employment Reports. In the MBA Employment Reports, "Accepted Job" is defined as an MBA graduate who 1) is seeking employment 2) received at least one job offer and 3) accepted a job offer. As we showed in the 'MBAs Seeking Employment' Article, about 75% – 85% of MBA grads seek employment, receive an offer and accept a job offer. In addition, keep in mind that MBA students who already are sponsored by a firm and return to work at that same firm are not counted as part of this "Accepted Job" metric.